Most of the time, when we picture a small bedroom ceiling, we picture something plain and white. Few people give the idea of decorating the bedroom's ceiling with a distinctive pattern any thought. Most people don't consider the significance of ceiling designs when it comes to interior design. However, they have a unique personality that no amount of furniture or art can match. The best thing about an attractive small bedroom ceiling design is that it can be achieved without major home renovations. 
There are many inventive and affordable fall ceiling designs for small bedrooms options available today, including stick-on coffered ceiling tiles that can be decorated with any color and these straightforward DIY crown moulding trims. If you want something even more extravagant, you can choose from options like gold, decorative tiles, or expensive ceiling trim. 
A false ceiling design can help your small bedroom appear larger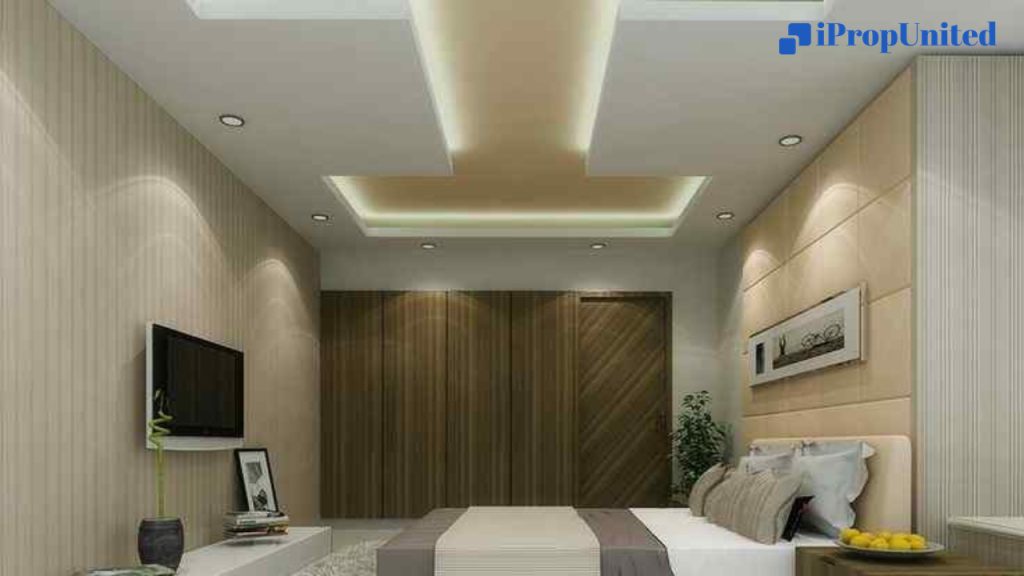 If you plan carefully, even the smallest spaces can be transformed into works of art. Here is one illustration of an open-feeling ceiling design. This clever design choice creates the illusion of an open, light-filled space with a balanced geometric ceiling and additional lighting in the spaces between the shapes. 
Peripheral Bedroom Ceiling Design: A Ground-Breaking Standard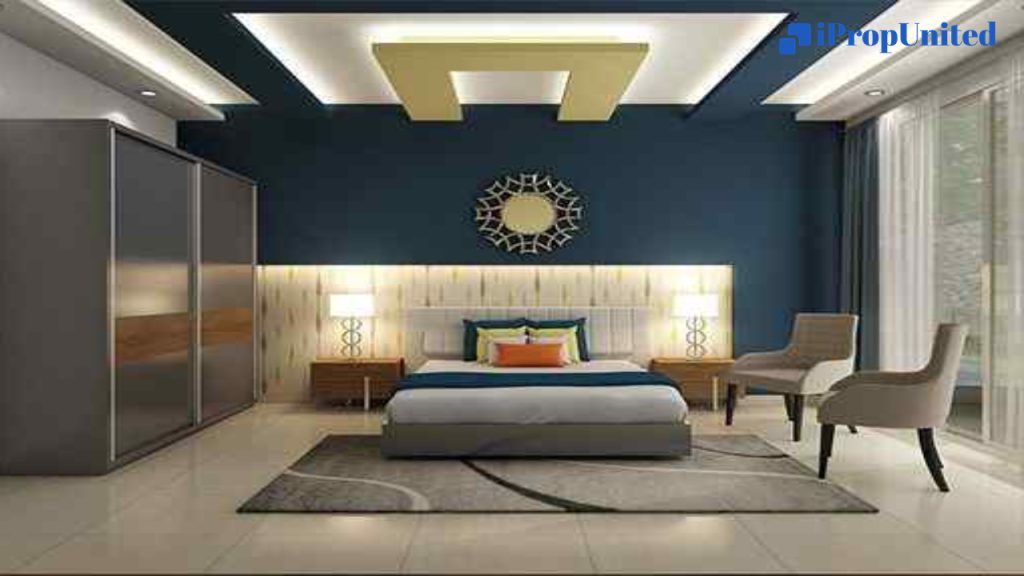 This blue and beige ceiling design, which is not only limited to the top but also flows freely to the bed back wall, is a great option if you're looking to add color and a sense of continuity to your bedroom. The peripheral false bedroom ceiling design, as its name suggests, wraps around the edges of the wall in bedrooms with low ceilings. The majority of the space should have diffused lighting, with a few spotlights in the study corner to add visual interest. 
The Ceiling Design That Fits the Fan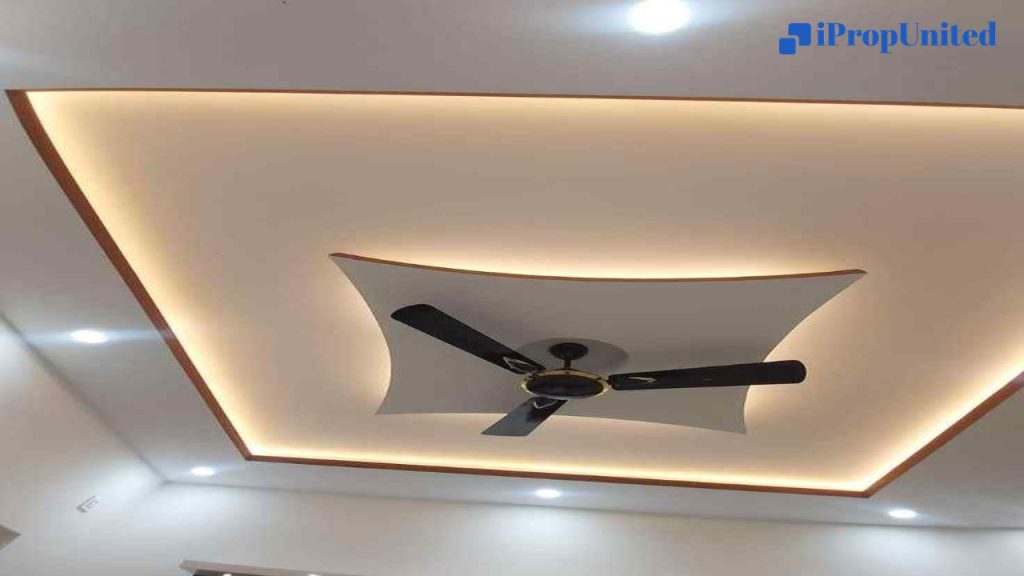 Immediately, one of those bedrooms must be entered. The oddly shaped room is neatly defined by a false tray ceiling and a central designer fan. There are several edges on the false ceiling that resemble the fan blades in a striking way. A line of light fixtures in the void regulates the lighting in the space. A few neon lights mounted on the sides might be useful for reading and other tasks. 
Beautiful false ceiling in kids' room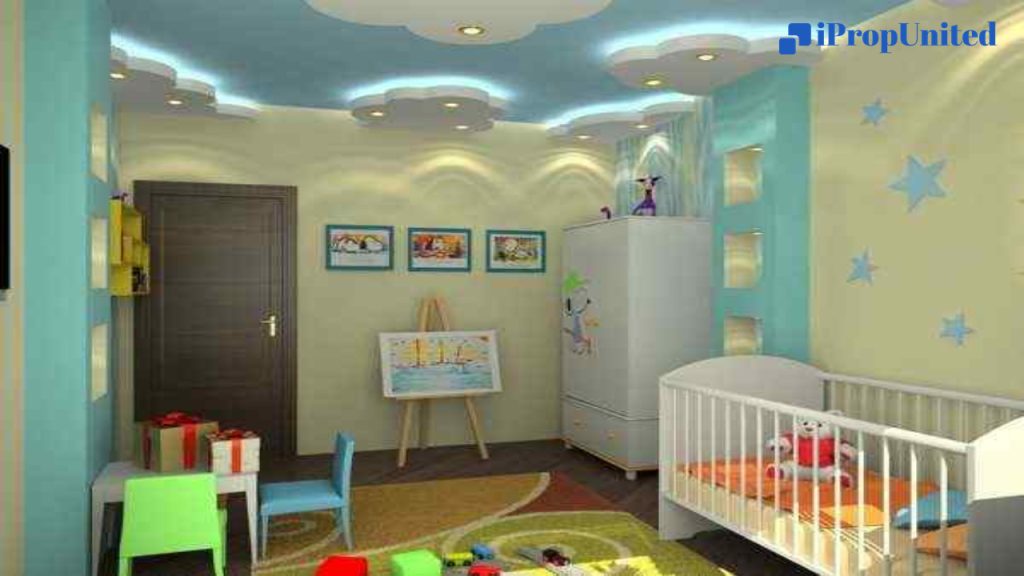 Check out the adorable children's space that can serve as a nursery for a newborn. To make their stay as enjoyable as possible, every square foot of the room has been individually decorated. The ceiling is the main architectural feature of the space. The false ceiling is a simple shade of blue, and it has a tiny cloud-like shape hanging from it. When lights are added, these fluffy balls come to life! 
Wooden Rafters add Old-World Charm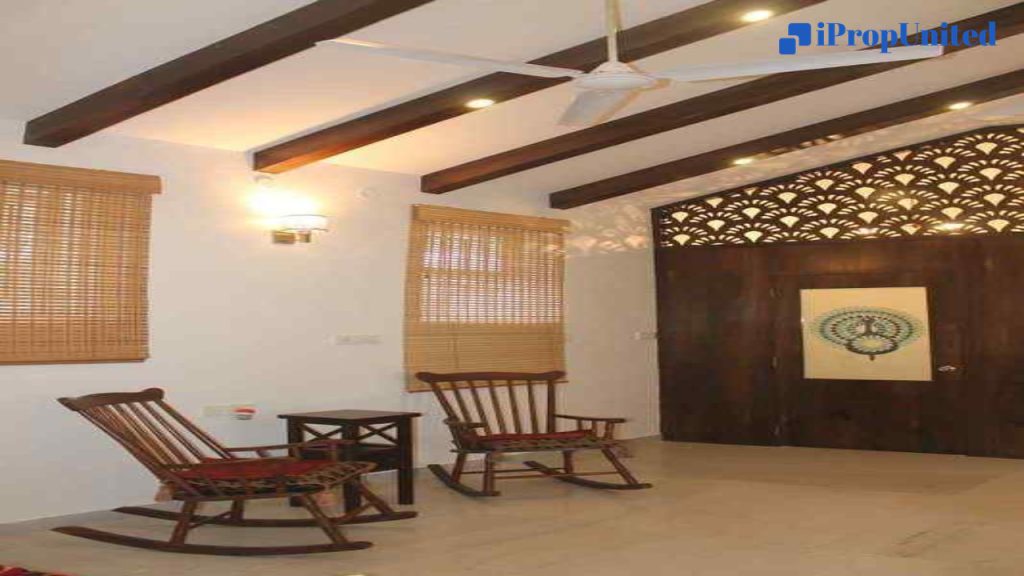 A false ceiling with wooden rafters has a lovely vintage appearance. The earthen window coverings and vintage wooden rocking chairs in this small bedroom balance the ceiling's rafters.
A Girly Take on the Ceiling Design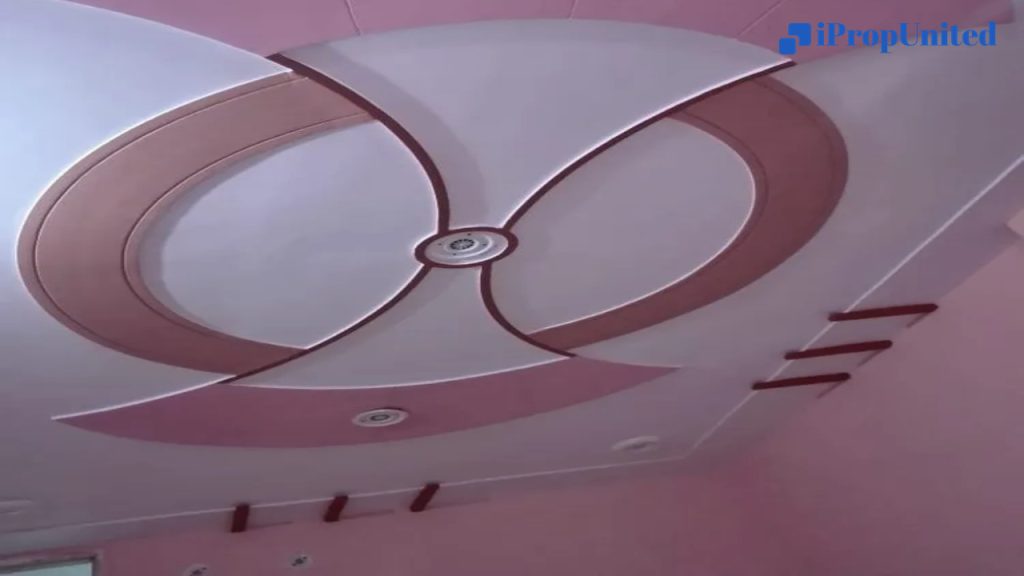 Pretty girls are constantly searching for things that complement their beauty! This lovely bedroom uses several different shades of pink, which is a delicate color. There is a two-tone carving on gypsum board above the twin beds. The back of the piece, which is an extension of the wall, is decorated with a collection of tiny lights. 
Modern Abstract Pop-Ceiling Designs for Indian Bedrooms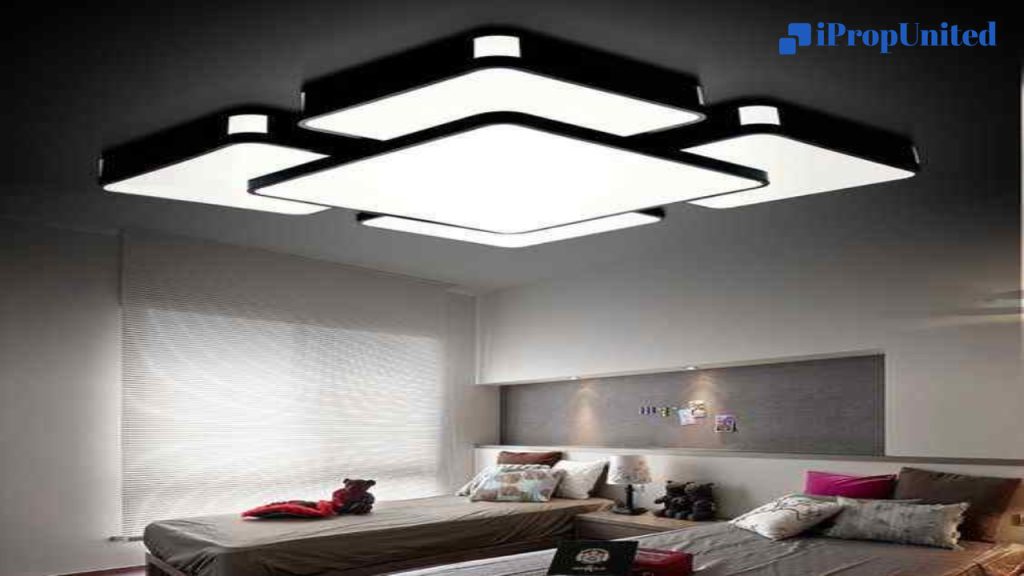 Beautiful ceiling design for a modern Indian bedroom. The grey ceiling has a variety of white, shaped panels against a dark background that creates the appearance of light. The roof can be lit and maintained between the grooves. It can hide all the wiring so you have a luxurious bedroom you can be proud of! 
String Lights with an Inverted Cove for Starry Lighting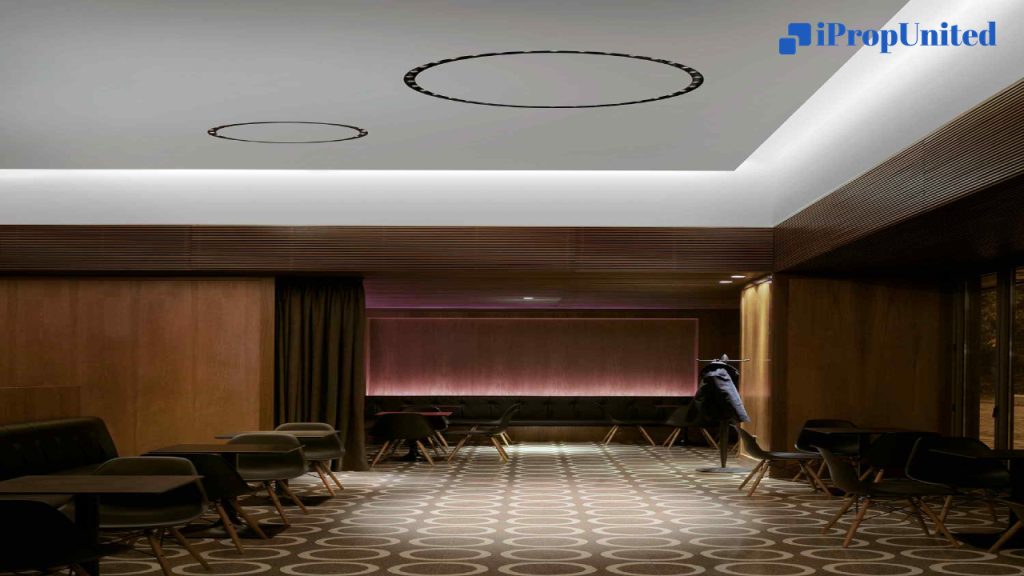 The interior designer who worked on this most recent bedroom ceiling design came to the conclusion that using a white coat in the inverted cove of the POP ceiling was the best way to make the wooden cabinets look cohesive. In this false ceiling layout, the track lights in the cove are adorned with string lights that are woven into the center panel's circular pattern. Inside your small bedroom, the starry effect of the string lights will give the impression of a breezy night sky.
Vaulted ceiling design in a bedroom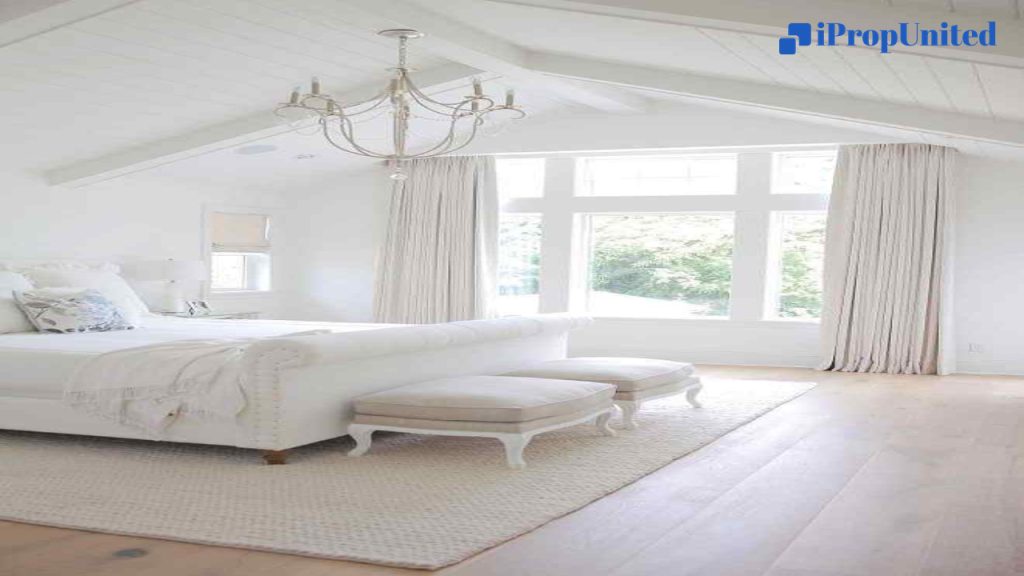 Vaulted ceilings are becoming more prevalent in contemporary bedroom ceiling designs, which you might not expect to find in churches or homes with sloped roofs. They rise from the side walls of a room to the center, either barrel- or arch-shaped. The natural geometric shape of vaulted ceilings makes them pleasing to the eye. This design element is perfectly complemented by plush furniture and opulent accent walls. Vaulted ceilings can increase the amount of natural light that enters the bedroom when they are situated next to large windows. 
Blue PVC false ceiling design in a small bedroom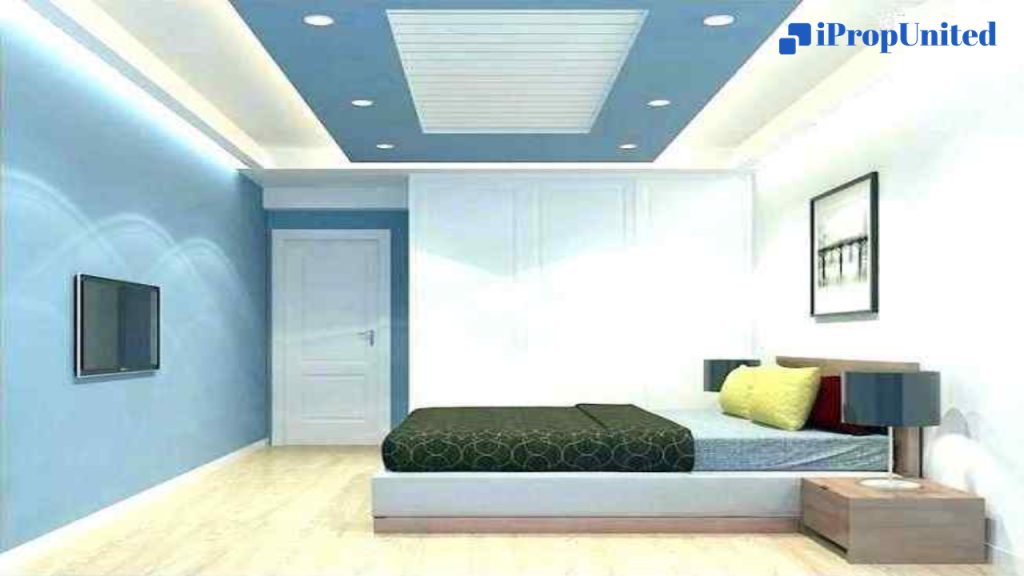 In this peaceful blue-themed bedroom, set the tone for a restful night's sleep. Walls and furniture are painted in lighter blues. The ceiling suspension is also made of blue PVC laminate if you want to match the other furnishings in your room. Any pastel colour will work for this concept. 
Try Zigzag Patterns Ceiling Design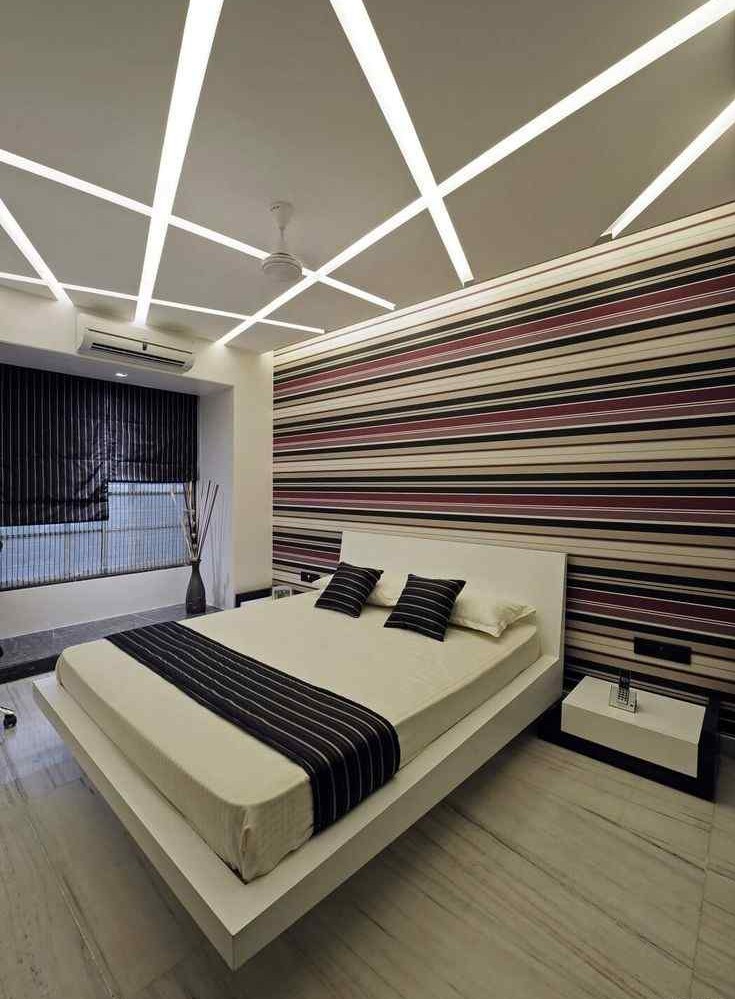 This backlit panel is easy to install and provides the quick lighting fix you need for your bedroom. The trendy false ceiling in the bedroom provides lovely diffused lighting that complements the simple, straight multicolor wallpaper on the wall behind the bed beautifully.
Industrial-chic Concrete ceilings for modern bedroom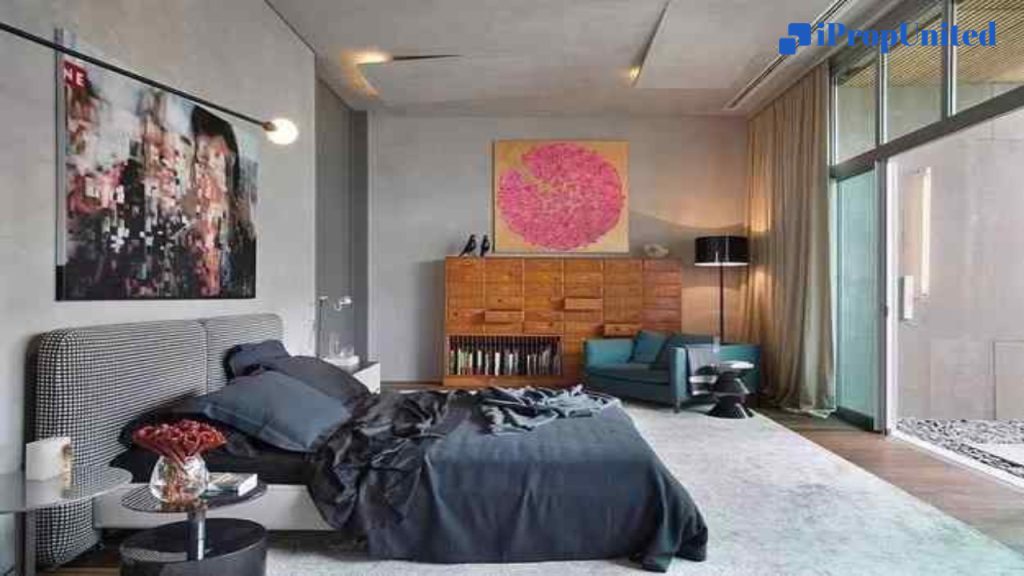 The "industrial chic" design aesthetic for interior decoration has been centered on the use of concrete ceilings as a design element. It makes sense that this adaptable, robust, long-lasting, inexpensive, and simple-to-maintain material is now being used in the design of room ceilings. It can appear cold and impersonal when used in a bedroom, and it's not the easiest look to pull off. This necessitates the use of rounded furniture and calming accents, such as the tall windows made of aluminum above the door. Concrete ceilings can be used in spaces with little natural light as well, though this can make a space feel dark and cramped. A room can feel cozier by adding additional layers of lighting.  
When contrasted with warmer and richer elements in the space, concrete ceilings can appear cold and impersonal. Larger furniture pieces can be finished in warm wood tones or luxurious fabrics like velvet, satin, or wool.
Be Discreet With The Stylish Chevron-Patterned Wooden Panel False Ceiling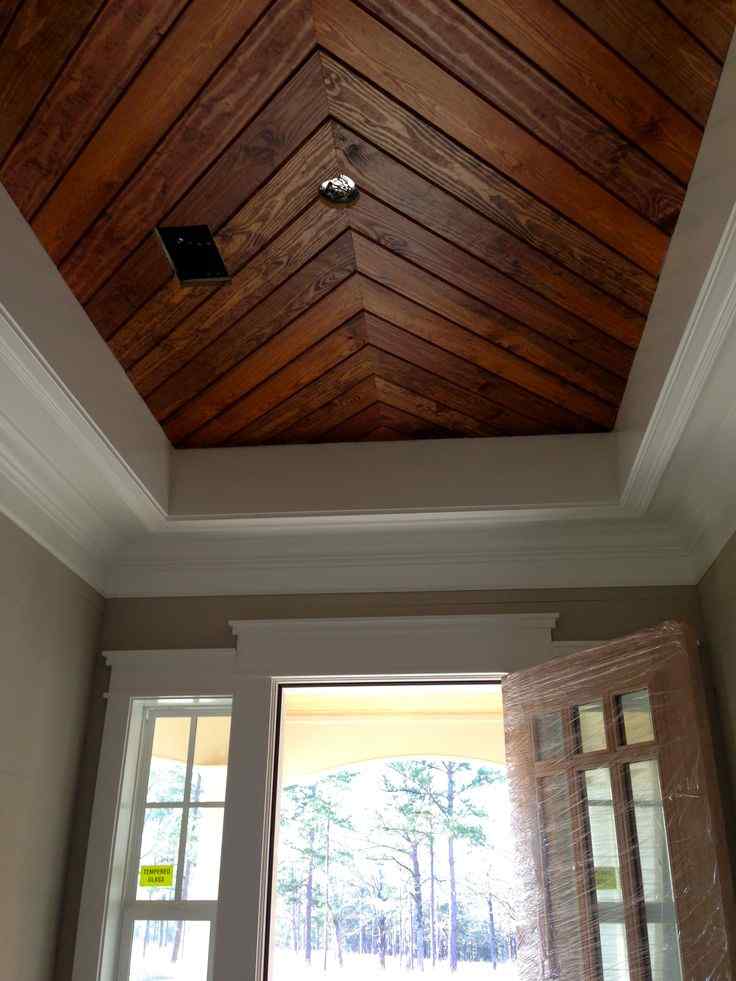 Wood paneling is the epitome of elegance! The bedroom's stunning false ceiling, which features a chevron pattern reminiscent of the headboard, makes the bed room's focal point.
Circular ceiling design in a bedroom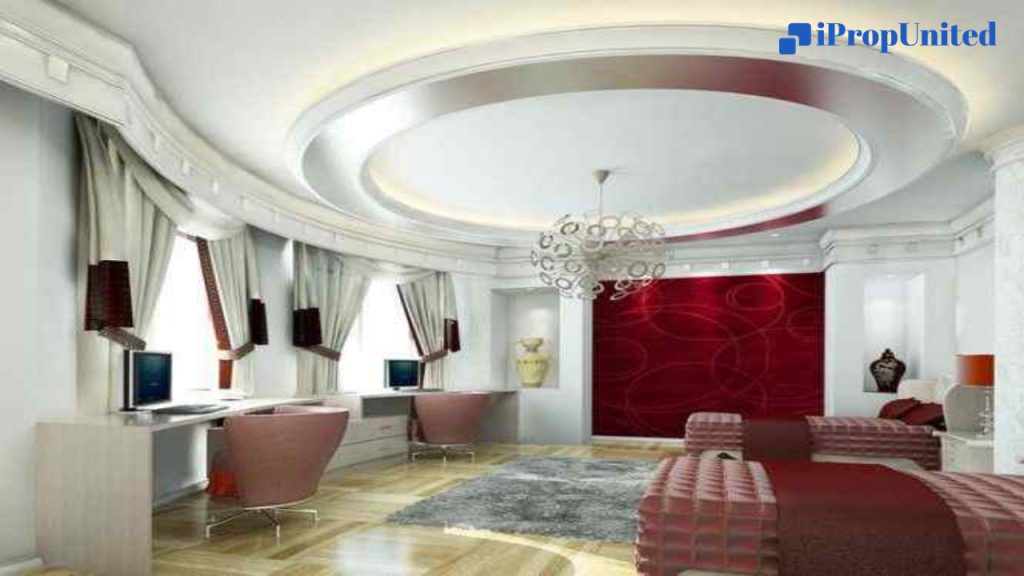 You can sleep like a king in this opulent bedroom that has palace-like characteristics. There is a lot of room for creativity in the ceiling design because of the room's conventional layout. So, if you don't want to choose the traditional, square or rectangular shape, you can choose the round one. The circular element is highlighted with neon bulbs of varying brightness and has a glaze with a mirror finish. 
A ceiling design with a 3D wooden accent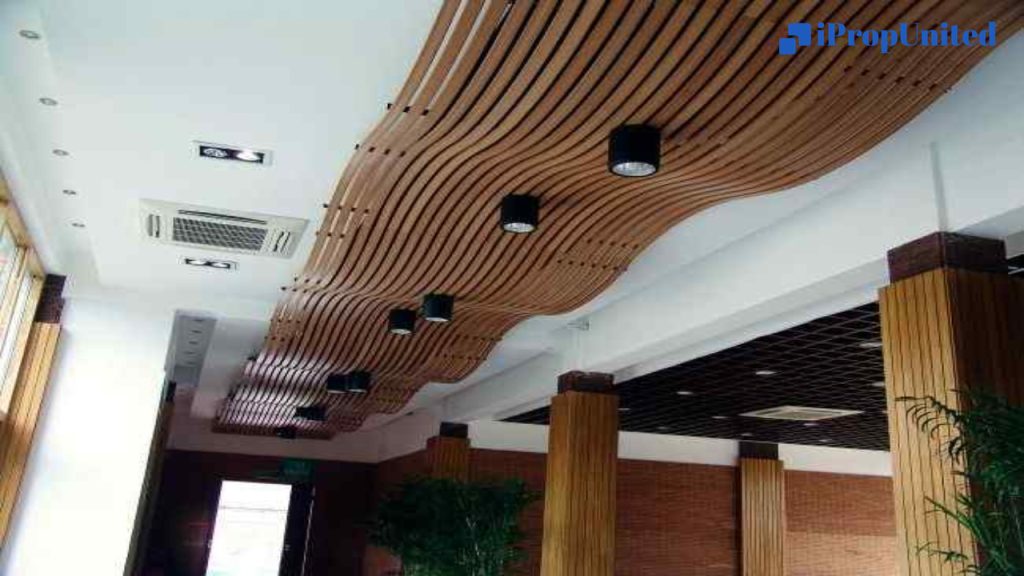 Using wooden rafters, beams, and slats in ceiling design can give a space a rustic appearance. The design trend of wooden ceilings is significantly upgraded in this space by a striking three-dimensional installation, creating a setting that is both modern and fashionable.
Instead of going with an all-wood ceiling design, which can be overwhelming, particularly in smaller rooms, opt for wood panels that are used sparingly in the bedroom.
A wooden ceiling with contrastingly-patterned planks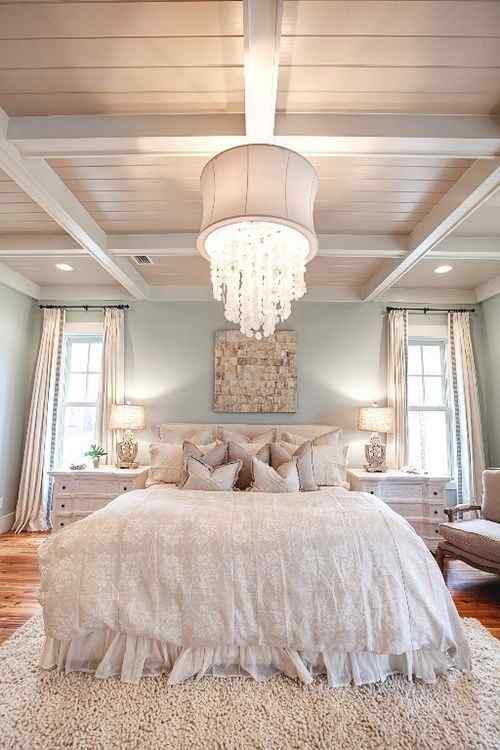 Wooden ceilings can add warmth and style to any room with their charming texture and design. White wood planks in a plus-minus pop design look great on rustic homes, farmhouses, beach houses, and cottages. Pair cherry red or clayey blue furniture with a white-painted wooden ceiling design to bring a splash of color into your bedroom. 
POP colourful modern ceiling design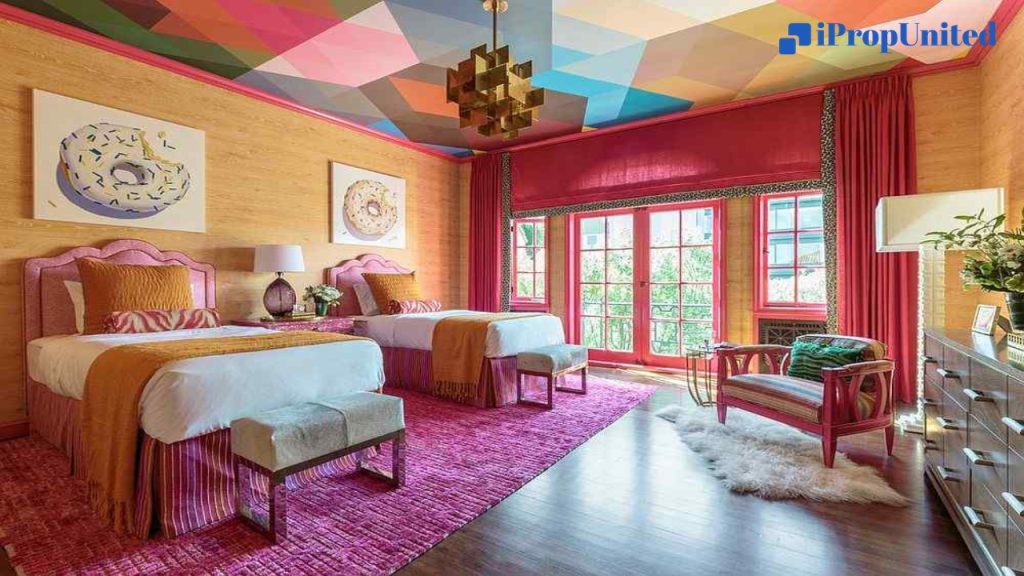 One of the most popular methods for designing a statement ceiling in a bedroom is this one. Ceiling designs frequently focus on insulation, roofs, and plumbing. Funky geometric patterns and inventive colors can be combined to create a three-dimensional modern pop plus-minus design. 
To create an eye-catching template, geometric plus-minus pop designs with shades frequently use beams, but they can also use paneling that is strategically placed. The area above your head can be made more vibrant with color pop ceiling designs without requiring major structural or design changes. 
A POP take on the petal design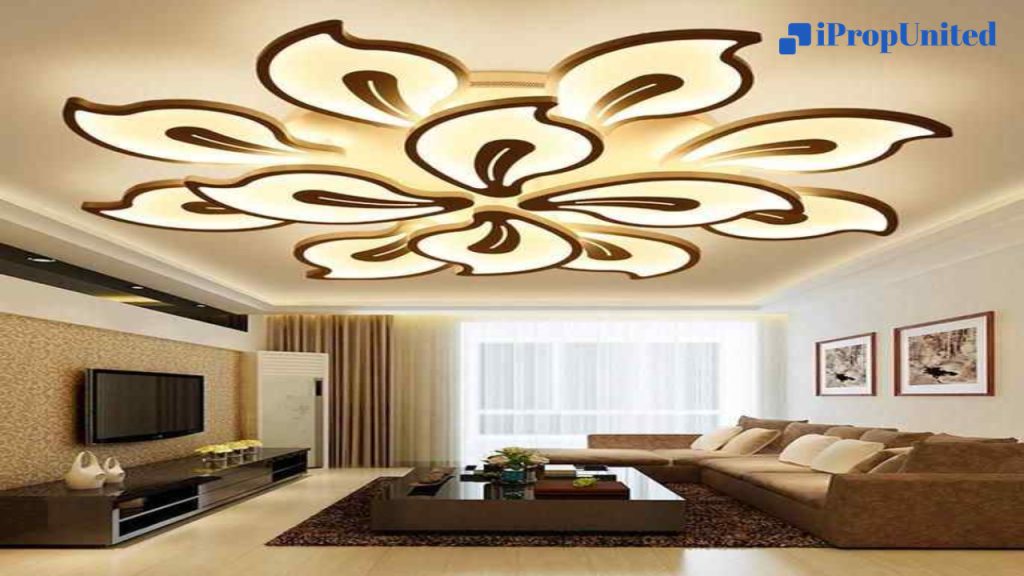 It's simple to choose floral or petal-style patterns for the statement ceilings in modern bedroom designs. The secret to creating a stunning piece is to use lighting that brings out the curves and edges, whether it's a plus-minus pop design with golden hues or an intricate pattern of colorful tiles. 
You should now understand the wide range of aesthetic options available for small bedroom ceiling designs. It doesn't matter if you use clever lighting techniques, patterned CNC designs, or even plain ol' concrete; the outcome will undoubtedly be spectacular. However, the more important query here is what works in your bedroom.
Follow and Connect with us: Twitter, Facebook, Linkedin, Instagram