Indian homes typically have pooja rooms. If you don't have enough space for a separate pooja room in your house, you could designate a part of your house as the location of a magnificent mandir of your choice. You have a wide range of options because the interior market is currently booming. You can create the perfect mandir design for your home by using the typical pooja room design layouts and styling advice given below.
Designs for Small Wooden Pooja Mandir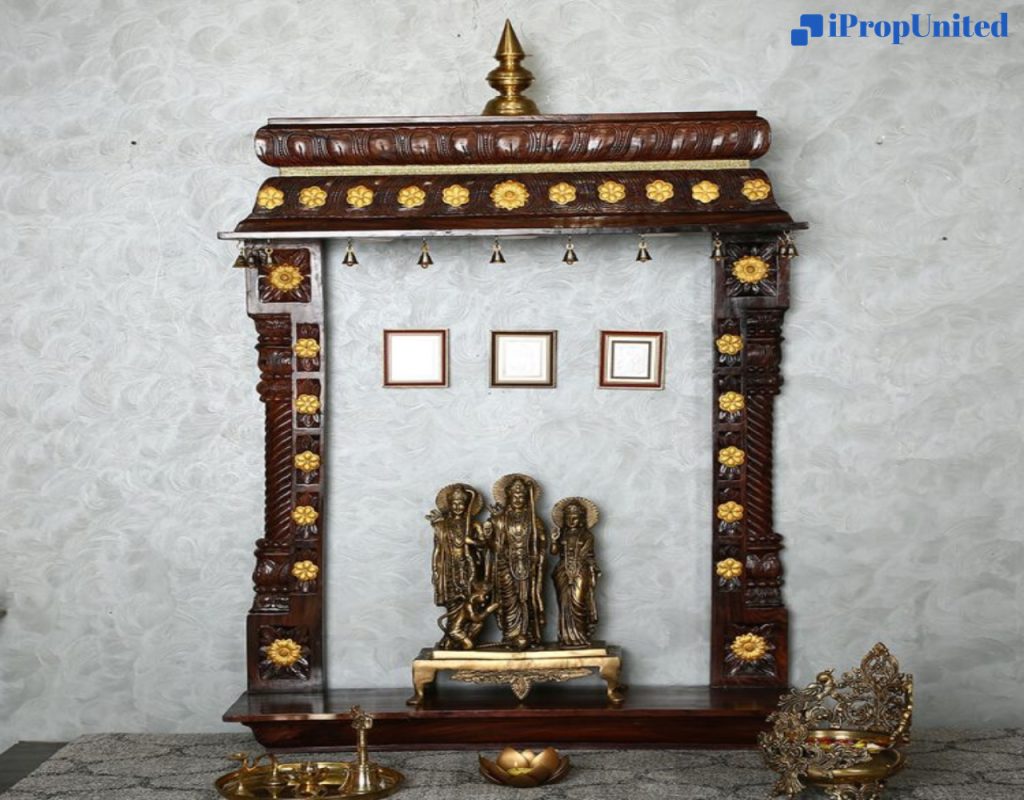 With intricate carving and detailing for a more impressive effect, mandir designs for hall can produce a calm and meditative environment. This mandir design for a home has an excellent balance of simplicity and complexity. This design is made even more appealing by the gumbad design on top. Tiny bells enhance a temple's essence and lend the building a serene, peaceful aura. 
Adding storage makes sense because it keeps the mandir area tidy and free of clutter. The wooden furniture's motif designs exhibit the kind of meticulous detail that completely changes a space. 
Open Mandir Design for Home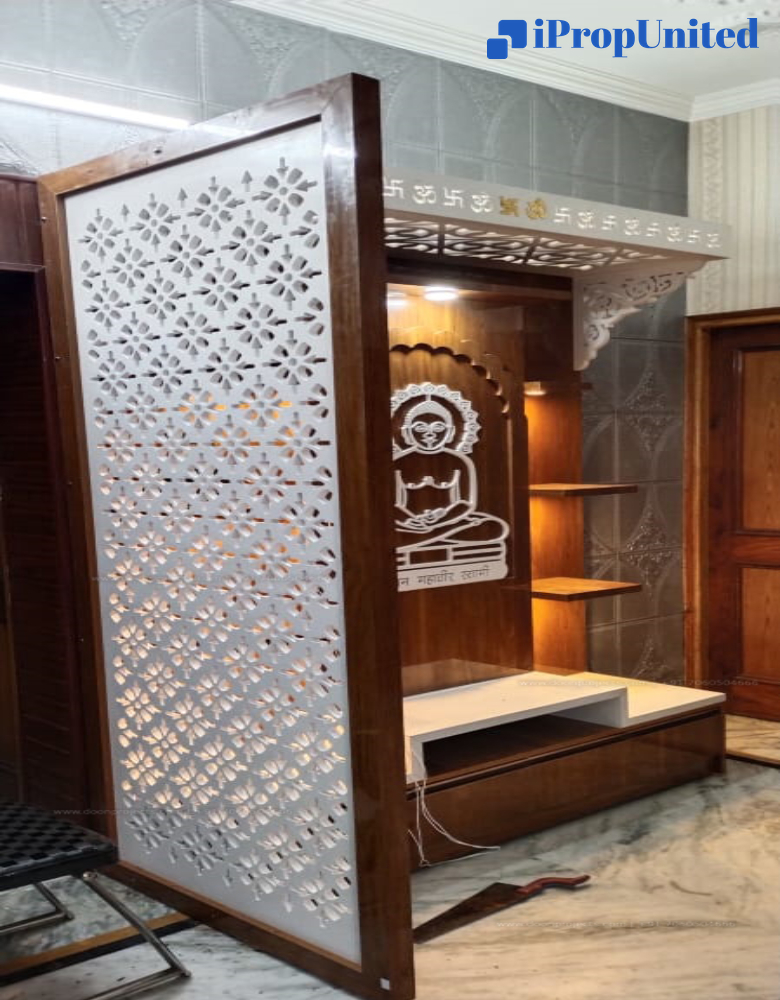 Both interior and exterior design have evolved to be inclusive and experimental. The complex jali design used in this mandir interior design for a home immediately elevates the appearance of the space. To emphasize the appearance of the area, use a solid border after this pattern.
You don't need a sturdy stand to keep your idols, according to this styling tip. However, having a small amount of daily-use cabinets in a low storage area will help a lot. Make sure you have a large idol at home if you decide to use this style of puja mandir design. 
Designer Mandir for the Home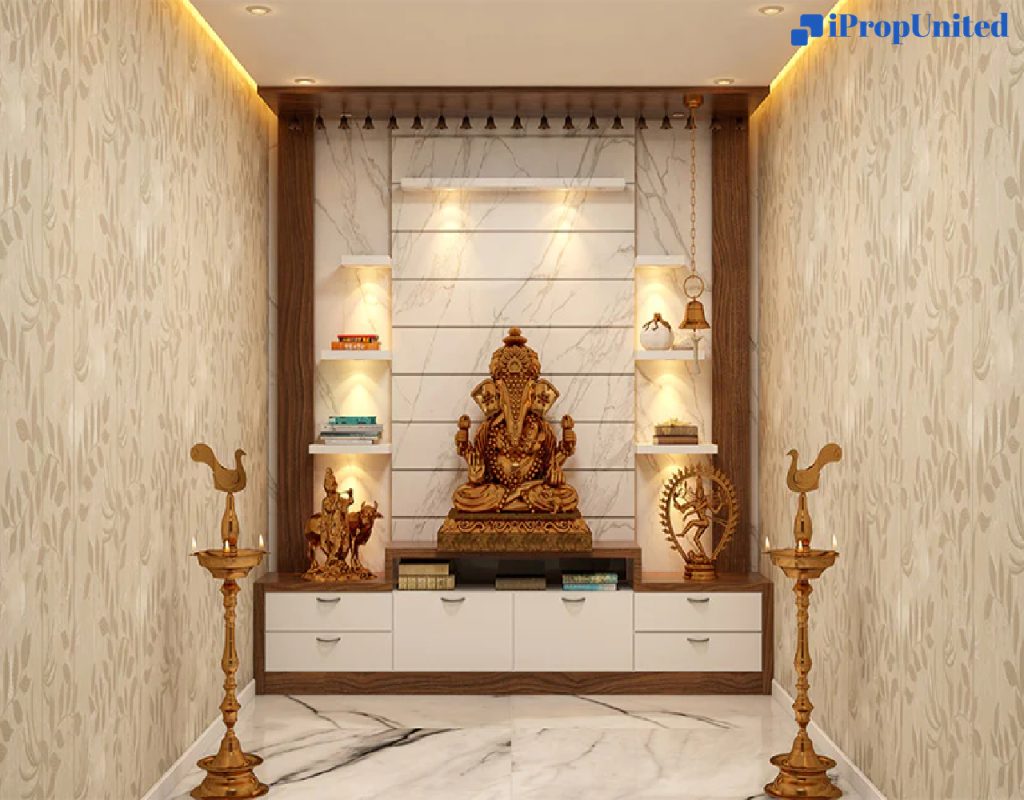 When it comes to any kind of trend right now, minimal is the direction to take. Innovative materials and lighting strategies can make a mandir design for the living room stand out and act as a focal point and conversation starter. The image above can be used as inspiration if you're looking for a new mandir design for your house. The room has a traditional feel that is enhanced by the hanging mandir lights. Simple pooja mandir wall designs come in a variety of sizes and shapes, making them suitable for mounting in both small areas and as part of gallery walls.
You can use plywood to decorate your home with simple designs.
Simple Wooden Pooja Mandir Designs for Home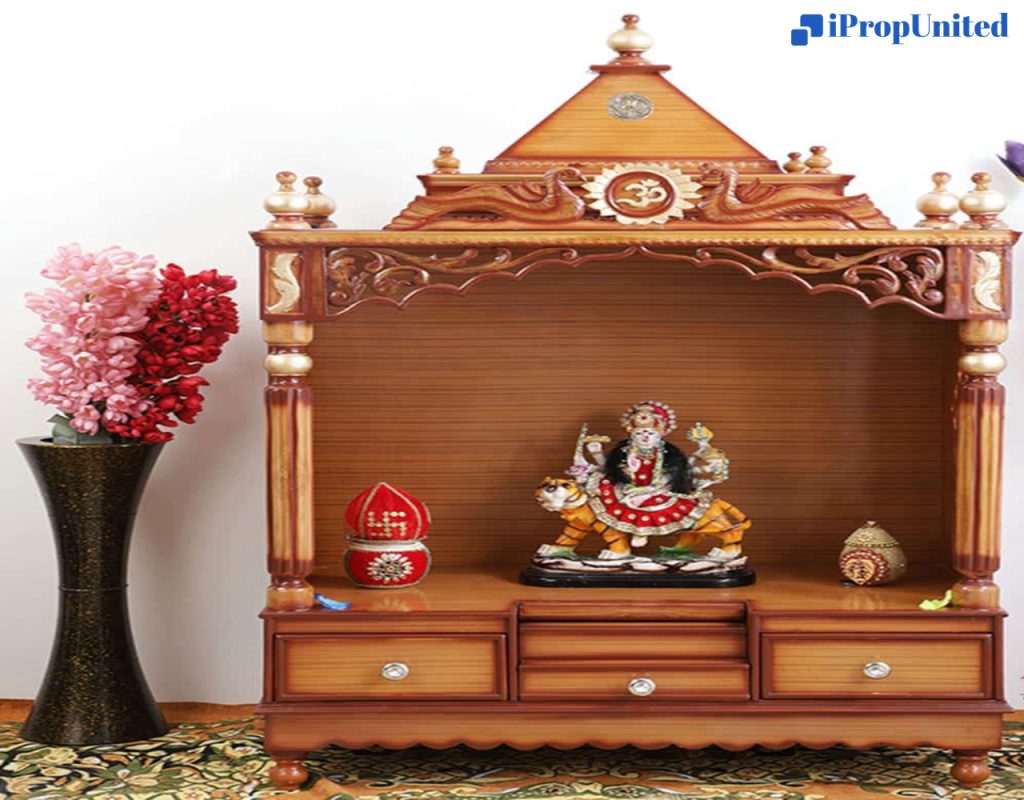 This simple wooden pooja mandir home design will instantly and beautifully transform your space. The best aspect of this type of design is how compact and space-efficient it is. The mandir's handles, which have a golden accent, are what really alter the course of events. 
You could choose a glass door or a jali design. Smaller spaces or those who favor a minimalist style of worship will benefit from simple mandir designs. You can upgrade the area's lighting if your budget allows for a little more flexibility.
Marble Mandir Design for Home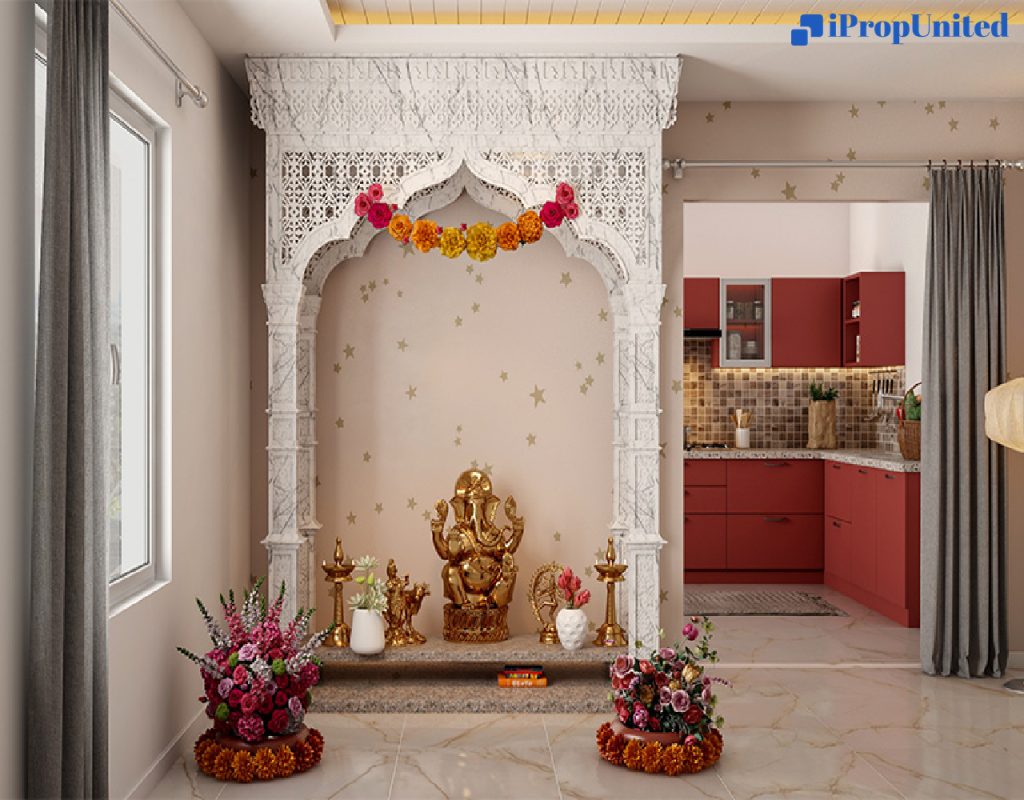 Marble is a beautiful stone that has lasted for centuries. They can be found throughout India's decorative architectural history. This mandir design is ideal for your house because it enhances its delicate charm.
It's not necessary to have a large, elaborate marble pooja mandir design for your home. Simple marble designs that are both beautiful and reasonably priced are now available on the market. Make sure to clean the marble surface every day to prevent aging and fading. 
Corner Mandir Design for a House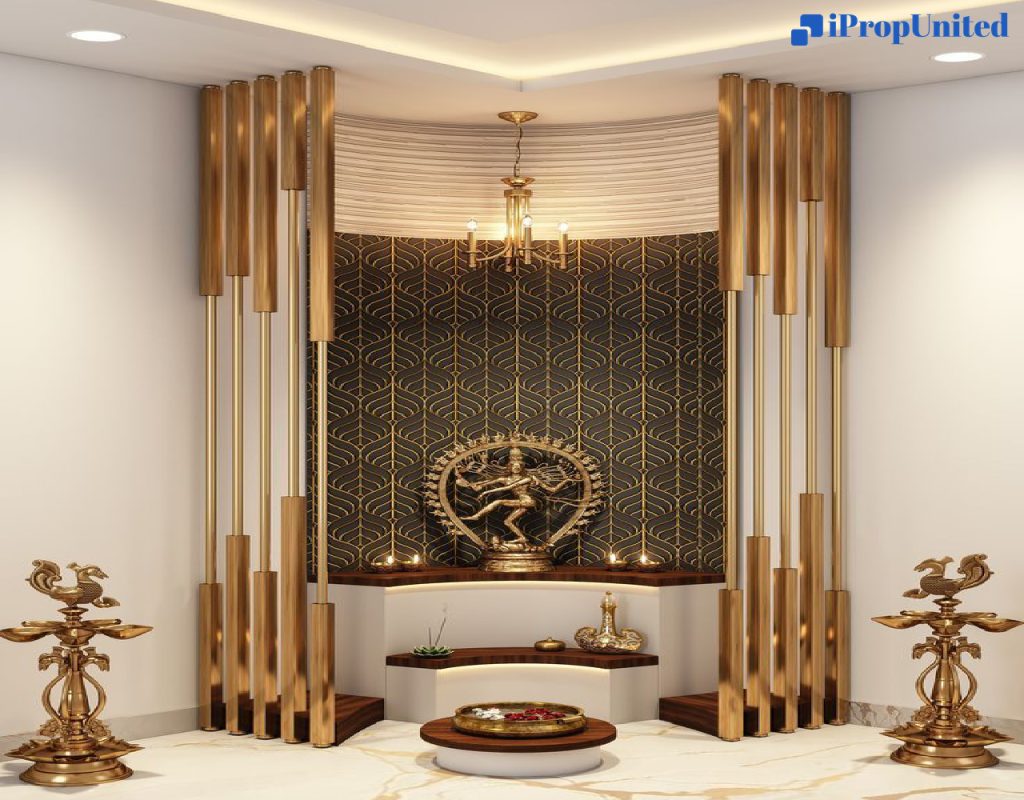 As we all know, using one's space wisely is essential in Indian real estate. Mandir background designs, which can include options like wallpaper, murals, or carved stone, can add depth and texture to the overall design. Therefore, a corner mandir wall design for a home is appropriate in an Indian context.
Modern Mandir Design for Home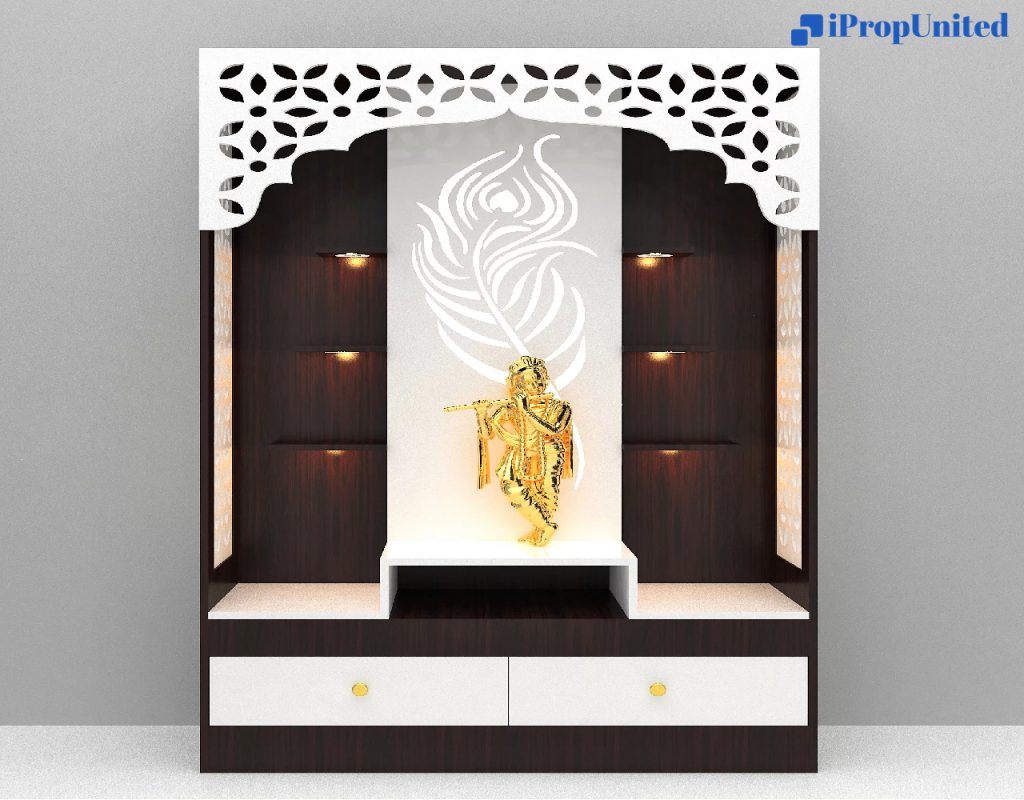 The market for interior design is booming with this most recent mandir design for a house. There are several benefits to it, including that it is small, wall-mountable, affordable, and highly customizable. This design is made more gentle by the harmony of white and light brown.
There are numerous home wooden pooja mandir designs, but you must pick the one that best suits your house. You can choose to have a wall-mounted version of the same design in a different color if you want to save space. 
Big Mandir Design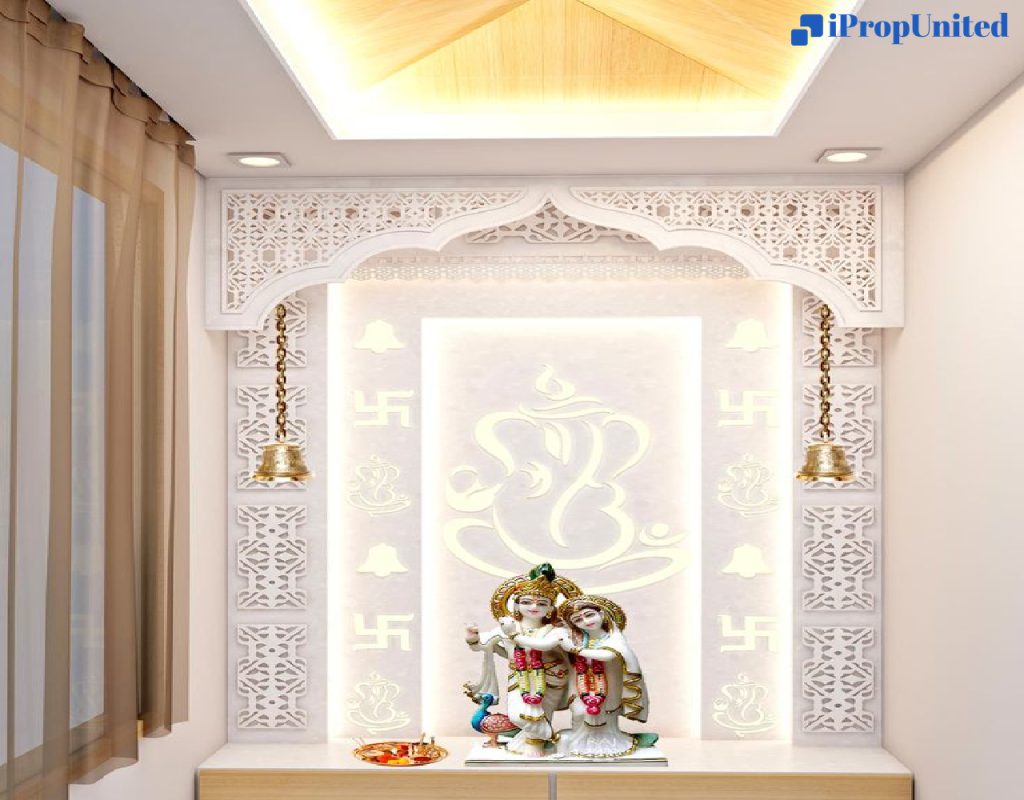 When playing with illusions, white is the best color to use. It is a well-known fact that using white makes a space appear larger. Therefore, this design is good for you if you're looking for a roomy mandir design for your house. The area's openness and the white surrounding it create a serene atmosphere. 
Include lighting fixtures in the interior design of your home mandirs. Choose a simple look to avoid detracting from the mandir's tranquil atmosphere. 
Mandir Gumbad Design for Home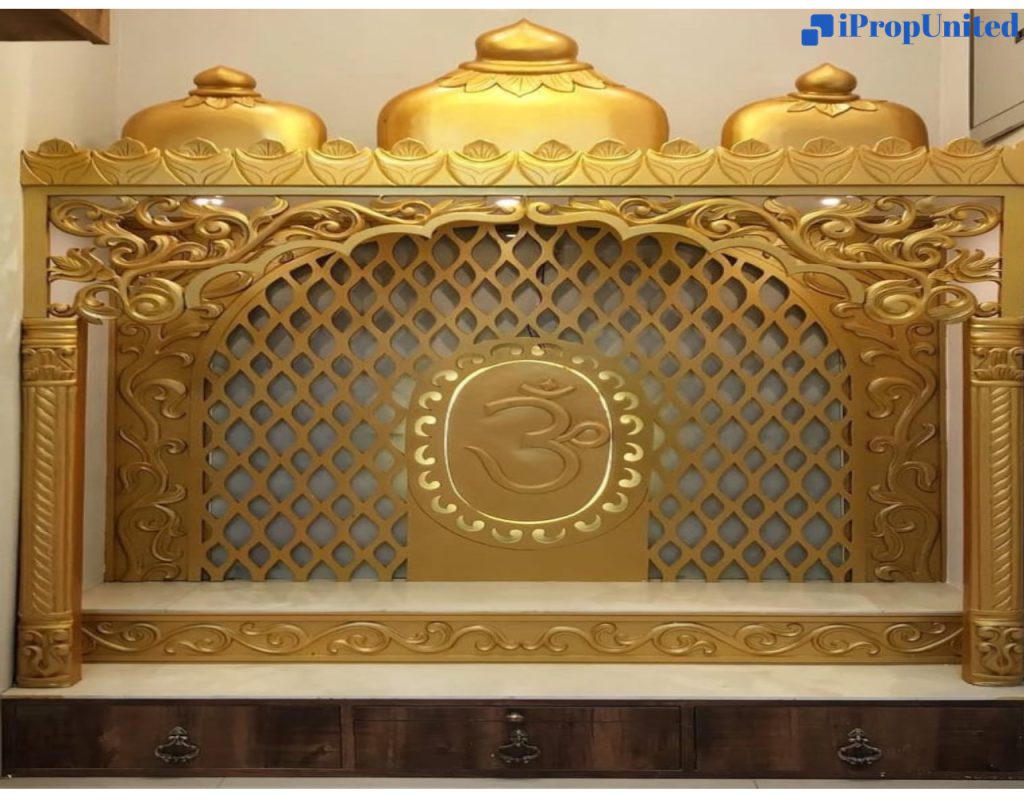 Mandir top designs may incorporate domes, spires, or other architectural elements, with options for customization to match the general look and feel of the temple. Indian architectural traditions are still relevant and fashionable today. This home mandir design will complement all of your interior decor and is timeless. With its simplicity and complexity, the jali design enhances the design's opulent appeal. 
It's not necessary to have a purely geometrical design. This contemporary mandir design for the home is equally attractive as any classic design. 
Gate Door Designs for Mandirs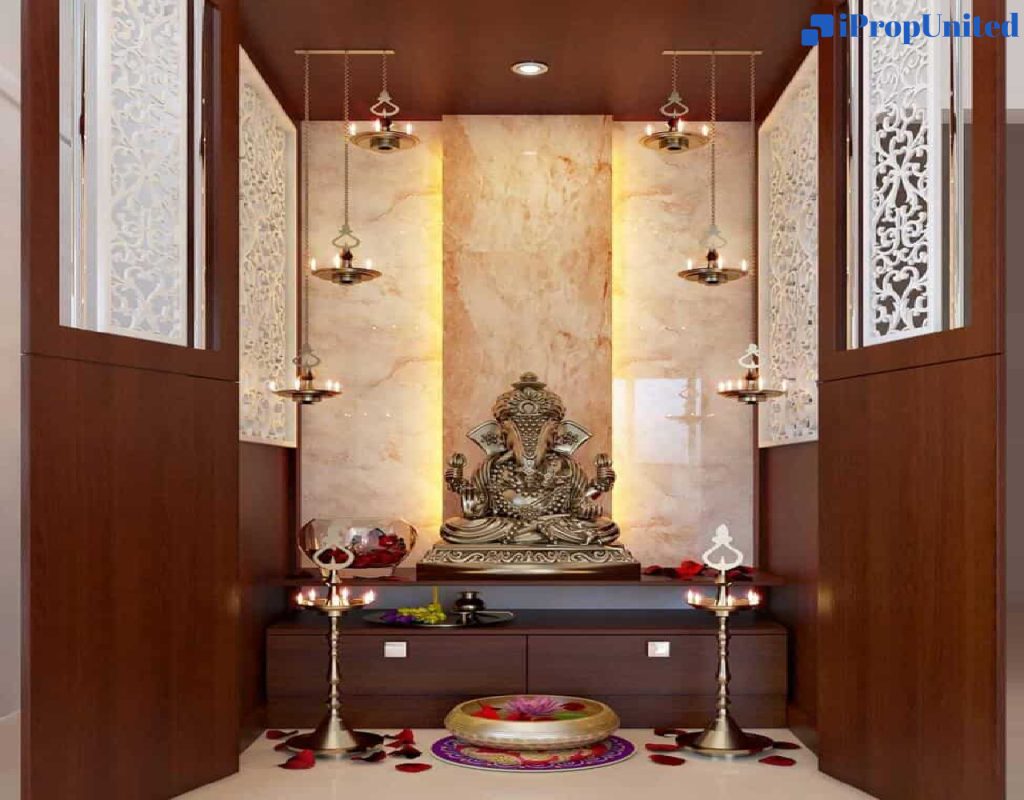 A mandir gate's design should be carefully considered because it serves as the entrance to the property. The intricate designs on the door in the image above add to the door's traditional charm. Choose durable doors with classic designs to avoid having to replace them every year.
Choose a mandir room with a simple design if you want to go with a heavy mandir door. This prevents designs from clashing and making the space look cluttered. 
Home Mandir Design Decoration
Make a subtle statement by painting your mandir design on the walls of your house. Select a pale orange or yellow color for your home temple to give the impression of space and beauty.
Select a mandir door design for your home to make a statement entrance.
Use Fresh Flowers to Adorn Your Home Temple. The easiest and most elegant way to decorate your home temple is with fresh flowers. Fresh flowers have the ability to instantly improve your mood and create a joyful environment. Even you can use flower garlands to adorn your home's mandir design.
Home Mandir Vastu Tips
There should be plenty of light in the mandir and it should have an uncluttered design.
Light colors should be used for the walls of your mandir because dark colors can be distracting while praying.
The ground floor of the house should be where the mandir is located, not the attic or higher floors.
All storage should be located beneath the area used for idols or images of the Gods in a mandir that is meant to be used in the home.
Mandirs shouldn't be placed in a home's bedroom.
Placement of idols in a mandir for a home
Below are the tips that will help you to have a balanced mandir space in your home- 
The east or west should be used to place the idols rather than the north or south.
Vastu Shastra states that one may keep idols of several gods and goddesses but not more than one of the same god.
The north and south walls should not display images of the deities.
Keep away from idols that are bigger than three inches.
The idols shouldn't be kept facing one another.
The statues that have been broken or chipped should be removed.
Vastu guidelines for Indian-style pooja room designs state that the idols and images should be set on a hardwood platform. Choose colorful, beautifully embossed chowkis or eye-catching little swings to keep the idols secure in the puja Ghar.
Do not place any pictures of the deceased close to the idols. 
Keep expensive items away from the pooja room.
The pooja room should be located on the ground floor rather than in the basement or the first floor. 
Maintenance Advice For Your Home Mandir
The purpose of redecorating your mandir is lost if you don't regularly maintain it. Cleaning the mandir requires extra caution, especially when it comes to the idols. Additionally, you need to use the right cleaning supplies to maintain the mandir's decor. The best ways to take care of mandir designs at home are as follows:
Maintaining a Marble Floor: While maintaining a marble floor in your pooja room may seem time-consuming, it isn't. All that is needed is baking powder and lemon juice. To remove stains from your mandir's marble flooring, you can also combine baking soda and dishwashing liquid in warm water.
Mandir Door: When we use our mandir, we touch the door the most. It must be cleaned frequently because it easily accumulates dust, grime, and stickiness. To clean the door, rub cotton balls with some olive oil on them. Your mandir will shine even more and the door will be immediately cleaned.
Idol Cleaning: If idols aren't cleaned frequently, they'll accumulate dirt, dust, and sticky residue. We suggest combining some salt, vinegar, and a piece of lemon to clean them. Before cleaning the idol with lemons, sprinkle salt on both sides of the fruit. The statues can be scrubbed with vinegar if you prefer, or you can make a solution by mixing salt, lemon juice, and vinegar. Use warm water to wash them.
Idol's Clothes: The soft materials we use to encircle the idols in our mandirs require regular cleaning. Hand washing these clothes with water and basic soap is the best method for cleaning them. These items should not be washed with any abrasive detergents as they are made of soft cotton.
Silver Utensils: A small amount of toothpaste is all that is required for cleaning silver utensils. If it's just one thing, clean it with a toothbrush. However, if you have a lot of silverware, add a little baking soda and a piece of aluminum foil to a pot of boiling water. If you place the silverware in the saucepan and let it sit there for ten to fifteen seconds, the silver will regain its original luster.
Follow and Connect with us: Twitter, Facebook, Linkedin, Instagram