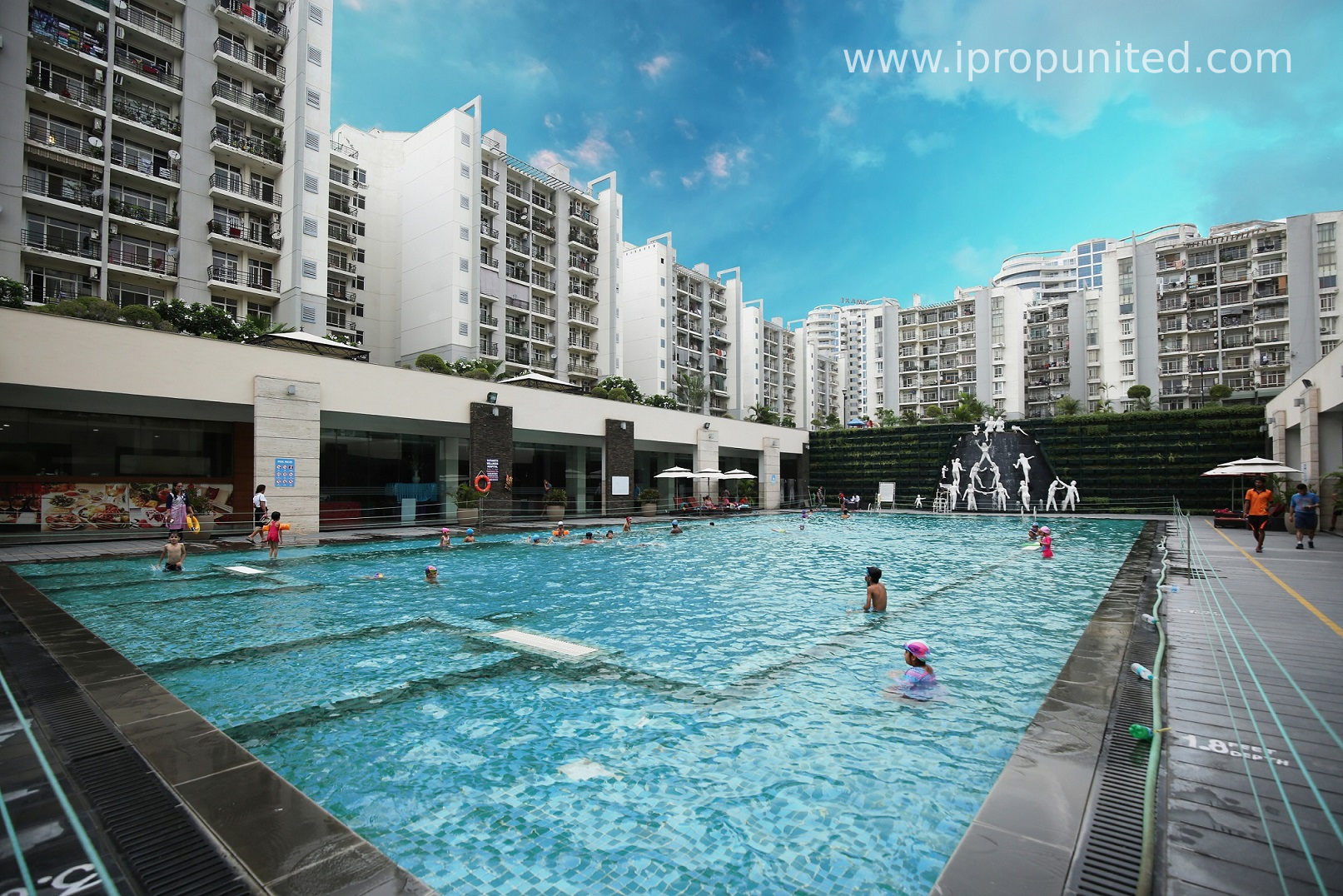 A home is a place where your heart is. Choosing the right house for your family is the task that involves a lot of recce. We would love to help you identify the best properties by most sought after developers of Noida. Here we will give you a brief about the properties in the price range of 75 lakhs to 1. 25 crore. We have tried out best to share the best real estate has to offer to you in Noida. We hope this article will help you identify homes as per your needs and preferences. Here are some of the beautiful properties by well-known developers offering 2 BHK and 3 BHK flats under 1.25 crore.
Grand Omaxe by Omaxe
Price – 85 lakh
Location- Sector 93 B, Noida
Type – 2bhk, 2 Bath
Brief
Grand Omaxe located in Sector 93, Noida has apartments accessible at a reasonable budget span between INR 59.0 Lac – 1.20 Cr. Grand Omaxe is a project developed by Omaxe Construction situated in Sector 93, Noida gives a competently constructed and ready-to-move 2 BHK and 3 BHK apartments. It contains 1320 units, spanning over 7 buildings and 10 floors, having a total project area of 25 acres. The apartments are constructed with ceramic tiling, pre-polished granite kitchen countertop, copper-protected wiring, hardwood door frames, etc. Grand Omaxe provides first-class amenities and convenience to its residents who come to live a new life here.
Tata Value Homes by TATA
Price- 72.5l
Location- Sector 150, Noida
Type- 2bhk
Brief
TATA House is a project acquired by a popular Real estate developer, Tata Realty and Infrastructure Limited. It is situated in sector 150 Noida.  The world is shifting towards all things smart, and so should your residences! Eureka Park is a residential project offered by Land Kart Builders Private Limited (an associate of Tata Value Homes Limited and Lotus Greens Constructions Pvt. Ltd.), which is in line with the modern-day aspirations of a creative lifestyle. Everything is here, from the locale to fresh areas that let you be one with nature, conveniences for your revitalization, a modern clubhouse, and the residence automation features, are thoughtfully constructed for the smarter you. Tata Value Homes Eureka Park is dissipated over an area of 20.74 acres, 2 BHK and 3 BHK flats are accessible in the complex. 10 buildings house 1160 smart and contemporary homes. Carpet plus exclusive area accessible for 2 BHK apartments is 783 sq ft. and for 3 BHK apartments, it is in the span of 934 to 1151 sq ft.
Ace Starlit by Ace Infracity Developers
Price- 81- 82 L
Location- Sector 150, Noida
Type- 2bhk
Brief
Approvingly situated in Sector 152, Noida Expressway in Noida, Ace Starlit is a meticulously prearranged project. The residential divisions in Ace Starlit are accessible in the range of Rs. 78. 3 Lac – 1. 25 Cr. This project has its extent over an area of 7 Acre. There are in total 490 units available in this project. Designed conserving all the contemporary necessities in mind, this Residential property is an excellent choice. This expertly framed project has Under Construction units. The units delivered are Flat, which have been formulated to deliver unconditional gratification. The size of different units accessible for sale in this project is 3 BHK Flat (1775. 0 Sq. Ft. – 1775. 0 Sq. Ft.), 2 BHK Flat (1350. 0 Sq. Ft. – 1350. 0 Sq. Ft.). The design of the project is such that it is categorized into 5 towers. The possession date of this beautifully organized project is 01 April 2025.
Godrej Woods by Godrej
Price- 1.19 cr
Location-   Sector 43, Noida
Type- 2bhk
Brief
Soon to be inaugurated, Godrej Woods Noida residential development has developed quite a stir. There are various reasons for Godrej Properties Sector 43 Noida that go into creating this wonderful project so well-liked. Located in sector 43, the project gives vicinity to an assortment of significant destinations like college, university, bus stand, hospital, metro station, and more which makes residence here truly desirable. The project itself offers a peaceful and soothing environment to its inhabitants as well as the power back up and round-the-clock protection. The rooms here will be large with wide patios that will offer the residents a spectacular view of the neighbourhood. Some of the significant conveniences recommended in Godrej Woods Pre-Launch Project comprise yoga deck, jogging track, kids play area, swimming pool, tennis court, gymnasium, clubhouse, BBQ area, well-maintained garden, amphitheatre, and more.
Godrej Nest by Godrej
Price- 1.01 -1.02 cr
Location-   Sector 150, Noida
Type- 2bhk
Brief
Godrej Properties is proposing its primary project in Noida. The project is situated in the leafiest sector of Noida-Sector 150 which is the first recommended wire-free sector of India. Sector 150 is on Noida-Greater Noida Expressway and is also seamlessly attached to Yamuna Expressway and FNG Expressway. It is a low residential development sector and provides a broad variety of sports installations. Some of them are a 9-hole Golf course and a golf club, an International standard Cricket Academy, multiple playfields, a comprehensive retail, and recreation hub, etc. Godrej Properties is illustrating a landmark that protects your house with its different 5-tier security Net – GODREJ NEST in Noida's most assuring location Sector 150. With being the major Residential Sector from the forthcoming International Airport, having seamless metro connectivity and signal-free connectivity to Delhi via three Major Expressways,
ATS Pious Hideaways by ATS Infrastructure Ltd
Type- 3 BHK Flat
Location- Sector-150 Noida
Price- 91l-1.09cr
Brief
Welcome to the world of Pious Hideaways – a residential haven that honestly lives up to its name. Situated in Sector 150 Noida, Pious Hideaways is how you interpret 'escape' from the basics. Twelve imposing towers illuminate the skyline, while the inspiring Royal Spanish architecture unfurls a stunning lookout. So, several opposites, yet so common. Pious Hideaways is near Sector 148, Noida Metro Station, and a pleasing drive away from Delhi. In other words, it is never removed from the requirements of life. The location has well-known schools, education universities, and corporate offices in its proximity, thereby making it one of the most sought-after houses in town.
Gulshan Botnia by Gulshan Homz
Price – 84.01- 91.45l
Type – 3bhk
Location- Sector 144, Noida
Brief
Gulshan Botnia is perfectly situated in Sector 144, Noida Expressway in the city of Noida, and is a well-designed project. The residential units in the beautiful Gulshan Botnia project are relatively priced within the span of Rs. 55. 0 Lac – 91. 4 Lac. It dissipates over a sprawling area of 5 Acre. There is a total of 764 present in the project. The Residential complex is clothed with top-of-the-line conveniences that are excellent for people of all generations. The wonderful property delivering large units is Ready to Move. The property shows several unit kinds as Flats, which are designed to offer unconditional satisfaction. The property units deliver a comfortable environment and span in size from 2 BHK Flat (1025. 0 Sq. Ft. – 1160. 0 Sq. Ft.), 3 BHK Flat (1355. 0 Sq. Ft. – 1475. 0 Sq. Ft.). The layout of the project is such that it is categorized into 4 towers. Officially this imperial project's launch date is 01 February 2016.
8.   ACE Golfshire by Ace Infracity Developers
Price – 83.65 l
Type – 2bhk
Location- Sector 150, Noida
Brief
ACE Golfshire is conveniently located in Sector 150, Pusta Road, Noida, and is a well-designed project. The prices of this perfectly planned ACE Golfshire project lie in the span of Rs. 69. 0 Lac – 1. 45 Cr. Scatter over 6 Acre, this project is remarkable in its scope. There are in total 455 units currently available for this project. Designed keeping all the contemporary necessities in mind, this Residential property is a suitable selection. The units of this property are Ready to Move. The property calls attention to several unit types like Flats, which are designed to offer unconditional gratification. The large and well-ventilated property units differ in size from 2 BHK Flat (1195. 0 Sq. Ft. – 1195. 0 Sq. Ft.), 3 BHK Flat (1675. 0 Sq. Ft. – 2095. 0 Sq. Ft.). This well-designed site retains 5 towers, each with its benefits. The project's official launch date is 01 March 2014. Its official date of possession is 01 November 2018.
9.  ATS Le Grandiose by ATS Group
Price – 84.5 l -1.2 cr
Type – 3bhk
Location- Sector 150, Noida
Brief
ATS Infrastructure has appeared with its new project Le Grandiose at one of the most sought-after locales of Noida, Sector 149. The tower is designed meticulously to provide you with dwellings that are large enough to offer the residents sufficient privacy. The homes have an aesthetic interest of their own. The tower has a remarkable configuration and a contemporary style. The residency rates are high in structure and functionality. The apartments have nice floor plan constructs, and every nook illustrates this. Le Grandiose by ATS Infrastructure is certainly a promising option for you and your family.
10. Urbtech Hilston by Urbtech India Developers
Price – 85.8 l – 92.04 cr
Type – 3bhk
Location- Sector 79, Noida
Brief
Urbtech India has appeared with their different residential project Hilston which delivers 2 and 3 BHK apartments alongside cross-ventilated overhangs. Urbtech Hilston is located at the excellent location Sector 79, Noida, from where you can take the pleasure of facilities acceptable in situations.  Urbtech Hilston is perfectly constructed with unbound comfort & the best of conveniences and is a clear combination of modernity and refinement. This project is practically planned for the people who understand the worth of residency, this home gives valuable and loving minutes for families and selves. The structure style is so alluring and present-day and it's a method to draw nearer to nature. Urbtech Hilston apartments give solid availability to the city, streets and spread over the 6 acres of land with the high-class civilities. These residential apartments in Noida offer you the kind of life that restores you, the one that motivates you to live life to the fullest.
Follow and Connect with us: Twitter, Facebook, Linkedin, Instagram