Investing in real estate necessitates a lot of research, legwork, and hefty investments. Hence, a decision of such high investment should be taken with utmost care. The buyer must consider several important factors while choosing between ready-to-move-in or under-construction properties. Almost all buyers get stuck upon this question while buying a property, a ready-to-move-in or an under-construction property, which is better? Both types of property fulfill their own objectives. It is crucial to understand the pros and cons of both property types.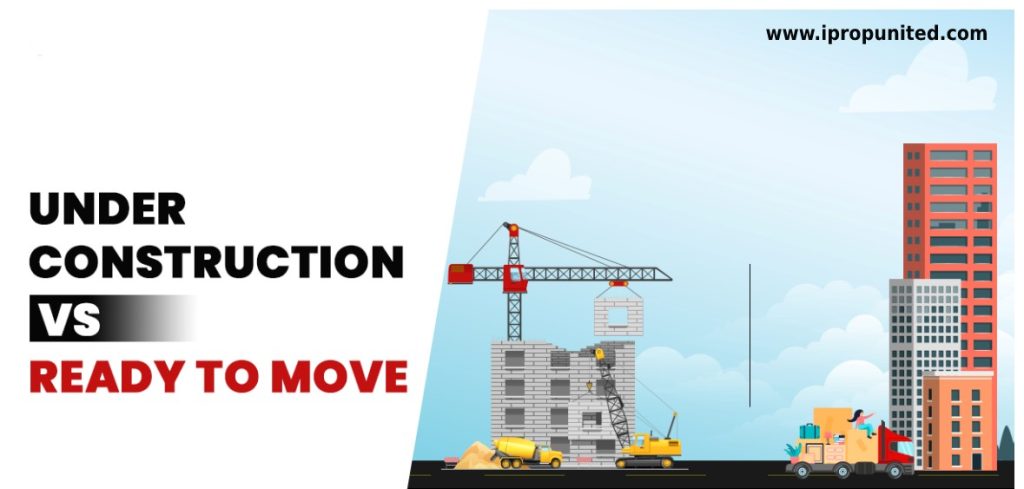 This article is about ready-to-move-in and under construction properties to help buyers understand the difference and choose wisely.
Returns on Investment
In case of an under-construction property, if the project gets delayed beyond a certain limit the buyer might need to spend more. The increase in price often exceeds the overall budget of the buyer. However, under-construction property makes payments easy, as it allows flexibility of paying in stages as the construction process evolves.
If buying a ready-to-move-in unit, a buyer can select a house within a fixed budget.
Besides, buyers can enjoy the benefit of tax exemption on the home loan on both principal and interest repayment in case of a ready-to-move-in unit. The tax benefits on the home loan for an under-construction property can be demanded only after getting the actual possession.
Appreciation on Investment
Buying an under-construction property is usually a good choice as the launch price gives better returns due to an extended window between the buying and the delivery timeline of the project. Buying a property that is close to possession would be the better decision. An under-construction property closer to possession will earn a healthy appreciation in most of the posh localities.
Customizations
Under-construction properties allow making a few possible customizations based on needs, except for the structural ones associated with compliance. However, this option is not available in ready-to-move-in homes. You have to purchase a home the way it is or else invest time and effort in searching for a home that meets the elements you want in your house.
One must consider and prioritize one's needs. You can go for an under-construction home to customize the home to meet your needs. But if otherwise, you can buy a ready-to-move-in property.
Possession Concerns
The major concern associated with a lot of under-construction properties is delayed possession, although it doesn't happen in every case. The arrival of RERA and the following heavy penalties imposed for failure to meet commitments have diminished cases to a significant extent.
Nevertheless, in some exceptional and genuine cases, the developers cannot help it, which results in customers having to bear the consequences.
Whereas the ready to move in properties do not have such risks or uncertainties. You can move into your dream home as you make the payments. One should consider buying a ready-to-move home if one needs urgent possession.
GST Implications
GST applicability and rate are other essential considerations. Under construction properties with an agreement value of below 45 lakh INR require a GST payment of one percent. While above 45 lakhs INR incurs a GST of five percent of the agreement value, as GST increases the total cost of the home.
However, in case of a ready for possession home, the applicable GST is zero percent, and it comes in as a great reliever for home buyers.
Immediate Tax Benefits
In a ready-to-move-in property, you can avail of tax exemption on your home loan on both principal and interest repayment instantly while tax benefits on a home loan, for an under-construction property tax exemption, can be claimed only after the possession of a flat.
Pay Only EMI With No Down Payment
The most relieving thing about ready-to-move-in property is that you will have to only take care of the EMIs on the home loan, and not bother about anything else. In case of an under-construction property, EMI normally begins after the completion of construction work. Despite this, if there is any delay in the construction, then the EMI will start after the home loan gets dispensed.
Buyers must understand the purpose of the purchase to make the right decision between a ready for possession property and under-construction property.
Follow and Connect with us: Twitter, Facebook, Linkedin, Instagram