Hrithik Roshan has been pretty busy during the lockdown, he has been working on hits like Super 30, War, and the fourth chapter of Krrish. But, aside from all of this, he has found his dream house on Mumbai's Juhu-Versova Link Road.
The Juhu-Versova Link Road is considered a prime area in Mumbai due to its great connectivity to other localities in Mumbai, the locality has plenty of shops, office spaces, and malls nearby are very well maintained, and best of all, the apartment has a view of the Arabian Ocean.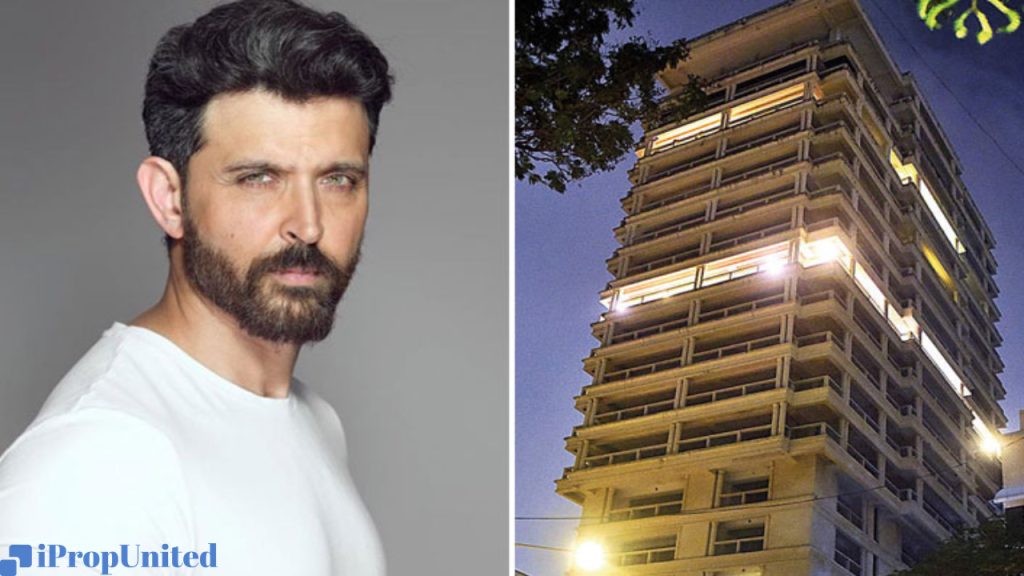 As per the reports, Hrithik Roshan closed the deal on his new house in October 2020 for a sum of Rs. 97.50 crores, making Hrithik Roshan's house cost almost Rs. 100 crore. 
His apartment spreads on the 14th, 15th, and 16th floors of Mannat Apartments and is about 38,000 sq ft. 
Hrithik Roshan has bought 2 apartments in Mannat, he has bought 2 apartments which take up the 14th, 15th, and 16th floors of this building.
The duplex, which spans the 15th and 16th floors, costs Rs 67.5 crore and is about 27534 sq ft, and the 14th-floor apartment cost him Rs 30 crore and is 11165 sq ft. Additionally, the Roshan family has access to a 6500 sq ft terrace, and 10 parking spaces in the building. The apartment offers an unrestricted view of the Arabian sea which is also a reason which makes the apartment expensive. Given its massive size, and the fact that it is on the topmost floor of the apartment, it is likely a mansion in the air.
Hrithik has not yet moved into his new apartment. There is a lot of work still to be done, the flats are going to be combined to make one huge mansion. Architects and designers were called in to transform the place and make it Hrithik Roshan's dream home for him and his family. For now, Hrithik Roshan is living in a rented oceanfront home in Juhu, right next to Akshay Kumar and Twinkle Khanna's home. During the lockdown, this house was rented in June 2020, and it is said that the rent for this beautiful home is around Rs 8.25 lakh per month.
Before buying the apartments in Mannat, Hrithik Roshan's house was Paras, a beachside bungalow in Juhu. This house was much smaller than the mansion in the Mannat Apartments, it was only 3000 sq ft. It had a den and two bedrooms, a stunning view of the sea, and some green space.
Paras house was filled with things that resonated with the actor's personal style, without being stuffed. He kept things fun for his kids by adding quirky things like a vending machine that dispenses candy and a foosball table.
Hrithik Roshan's House Interiors 
The living room comprises a grand piano, a vending machine with monkey bars in the den, odd quotes on the walls, and scattered nautical touches. The color scheme and layout of this house were inspired by the ocean, and Roshan personally bought all of the furnishings and accents while touring Dubai and Mauritius. A Dedon hanging lounger and a separate sitting area can be found on the actor's balcony area, which is connected to his living room. It's the ideal place for some "me time." Rich hardwood panels that make up the floor give the space a cozy atmosphere. A black telescope that provides breathtaking views of the Arabian Sea is also housed here.
Follow and Connect with us: Twitter, Facebook, Linkedin, Instagram