This December, Vijay completed 30 years in the film industry. Throughout his career, he has experienced both highs and lows. The 18-year-old Varisu star made his debut in a major role in Naalaiya Theerpu, which his father both produced and directed. The rest is history, as they say! 
The superstar's adoring following is constantly on the lookout for a glimpse of their idol. Thalapathy has a dedicated fanbase, and media reports and social media posts about fans gathering at the celebrity's house for a photo with him are nothing new. Undoubtedly, Joseph Vijay is a passionate, extraordinarily talented, and loving superstar who frequently grabs attention.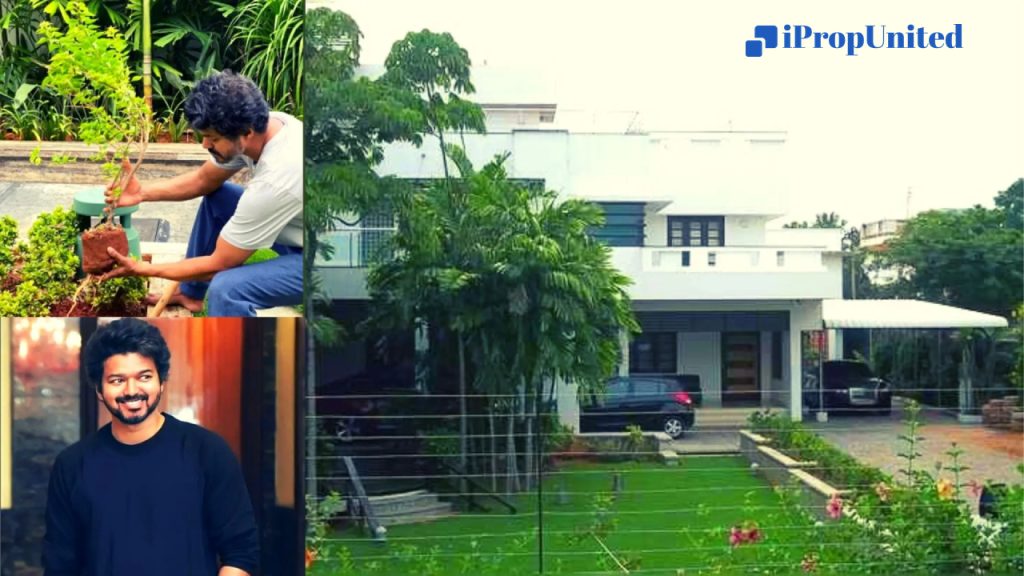 Let's look at the lavish real estate purchases made by actor Vijay and how he likes to spend his free time with his loved ones and fans. 
Vijay's Luxury House in Neelankarai, Chennai:
Actor Vijay's residence is located on Casuarina Drive Street in Neelankarai, Chennai. It belongs to the poshest neighborhoods in Chennai. The residence of actor Vijay is a well-known landmark in the area, surrounded by lush landscaping and exterior design cues.
The actor's house stands out visibly as you turn into the road and is decorated in a daring color scheme. The house has a large porch area that is precisely enclosed by a stone boundary wall at the front door. The entrance door of the prefabricated gazebo-like structure extends into the main entrance area, visually expanding the space.
The entrance gate stands tall, with a few small patches of greenery and plants lining the boundary wall. Despite the plants' visual mismatch with the boundary wall, the composition looks attractive. From the main entrance, one can see the large, lavish bungalow owned by the Indian actor, which serves as an example of minimal contemporary architecture.
Actor Vijay's house has a modern exterior with clean white walls and patterned cladding to fill in any gaps. In order to create contrast, the house's elevation uses lateral louvers and a sizable pavilion structure.
According to a well-known anecdote, he has traveled to the United States for his shoots on numerous occasions. On one of these excursions, he was able to see Tom Cruise's well-known beach house. After admiring the design and architecture of Tom Cruise's home, he was inspired to build his own home in a similar manner. 
The luxurious living space in Joseph Vijay's beachfront mansion is a wonderful fusion of elegance, beauty, and luxury. The residence of Joseph Vijay is the perfect example of contemporary architecture, down to the use of subtle yet alluring colors and the sleek exterior and lush landscaping. Let's examine this seaside house more closely and explore its various features.
Actor Vijay's House Price
In addition to being in a neighborhood full of celebrities, actor Vijay's House has good access to the rest of the city. The pristine and serene Neelankarai Beach, Chennai's hidden gem, is not far from the actor's abode.
Additionally, Neelankarai has a number of upscale cafes and fine dining establishments, highlighting its status as a wealthy residential area. The residence of actor Joseph Vijay is conveniently located near several well-known restaurants, including Namma Veedu Vasanta Bhavan, East Coast at Madras Square, and Meraki Cafe.
Given the simplicity of access offered by Neelankarai, it makes sense to assume that actor Vijay's home will be expensive. Joseph Vijay spent INR 70 crore on his home.
Inside Vijay's House 
The house expertly blends the beauty of nature with modern sensibilities while being surrounded by lush vegetation. With its modern entrance gate, brown perimeter wall, substantial structure, and pearly-white front, his property stands out as it rises over Casuarina Drive Street. The design of actor Vijay's home reflects his assertive personality, intellectual curiosity, and humble attitude. With its plain yet fashionable pearly-white hues and use of crystal-clear glass outside, his home is a lovely contrast of modernism, old-world elegance, opulence, and simplicity.
Joseph Vijay's house in Chennai's metropolis is truly a haven with all the comforts one could want. The garden has ample space to engage in activities like gardening or playing with his children. 
Beautifully Landscaped Garden 
The home of actor Joseph Vijay features a gorgeous, lush garden that is ideal for relaxing in the middle of nature. Joseph Vijay's garden actually provides him with the peace and quiet he needs away from the bustle of Chennai. Additionally, a cobblestone pathway next to the garden offers some space for cars to enter and exit the property. The actor often share his picture gardening and longing in his garden.  
Stylish look with Old World Charm 
The home of actor Joseph Vijay has a classic appeal despite its stylish appearance. A beautiful contrast is made between the ivory sofa and the dark wood paneling in the living room, which has an Indian flair. Joseph enjoys time with his family, friends, and loved ones in this cozy setting, where they talk and laugh for hours. 
Stunning Porch of Vijay's House 
There is a stunning porch area with access to the garden. The porch area is shaded by swaying trees, which offers relief from the oppressive heat. In addition, it is covered from the top, allowing Vijay to enjoy a rainy day without worrying about getting wet.
Terrace of Vijay's House 
Glass outdoors give modern place-like look to the exterior similar to Tom Cruise's beach house 
Vijay and his family can relax with a piping hot coffee on the outdoor patio, which has glass bannisters and overlooks Neelankarai's lush surroundings.
Other houses of Vijay
Joseph Vijay is married to Sangeetha Sornalingam, a lovely Sri Lankan Tamil woman, and has invested in real estate there. 15 years ago, he invested millions of rupees in a house in Sri Lanka.
In 2020, there was a rumor that some Sri Lankan investors and developers wanted to seize Joseph Vijay's land. Joseph Vijay's team released a statement denying the allegations in order to put an end to the rumors.
Follow and Connect with us: Twitter, Facebook, Linkedin, Instagram