Ravindra Jadeja has significantly progressed in both his personal and professional life. He is the son of Lataben and Anirudhsinh Jadeja and one of the top cricketers in the country. He has extensive experience playing for both the national team and the IPL. experience playing for both the national team and the IPL. Over the years, he has contributed to India's success by being one of the country's most athletic fielders, a bowler with excellent variety and the ability to take wickets, and a batsman with explosive power. Ravindra Jadeja is a top-tier all-arounder who has won numerous honors and awards. Jadeja is not only a top cricket player but also one of the most popular sports figures on social media. Due to his frequent Instagram and Twitter posts, the Ravindra Jadeja residence has gained popularity.
The door is just one of many regal-looking features in this athlete's home, which is surrounded by greenery. With its massive, exquisitely crafted doors highlighting his family's lineage and nobility as members of the Jamnagar Royal Family, Ravindra Jadeja's home's main door has a traditional, historic feel that evokes the Darbars of Maharajas.
Due to the simple and understated patterns and decorations on the exterior wall that draw attention to the elaborate open areas, a passerby would notice this lovely home among the foliage. The Ravindra Jadeja house is a magnificent mansion with a price tag of several crores. It is adorned with vintage chandeliers and chic furniture to give it a lovely appearance.
Inside Ravindra Jadeja's Bungalow
The four-story house's elaborate ancient doors, eye-catching chandeliers, sumptuous furniture, and other decorative elements embrace the splendor of monarchy. Even the colors used in the elaborate architecture and furniture are fitting for a noble house. Even the wooden baluster of the staircase adheres to the same architectural principle that can be found throughout the entire house. In keeping with the location's statement sofas and chairs, Ravindra Jadeja's home in Jamnagar has a warm and elegant aesthetic throughout the furniture. The neutral color scheme of this beauty is dominated by beige, brown, cream, off-white, and white hues.
The house is designed with a vintage feel in mind, but with a touch of modern contemporary furniture and opulent material appeal. By positioning antique items like showpieces and one-of-a-kind paintings in strategic locations throughout the home, the regal charm has been further enhanced.
Interiors with a Strong Rustic and Gold Theme
It is difficult to ignore the addition of a few gold stripes here and there to add a rich touch to various areas of the house because it highlights how lovely that location is.
Stone and marble appear to be integral parts of the entire décor, as they are frequently seen at the Ravindra Jadeja home. Additionally, woodwork is extensively used as storage solutions all throughout the house.
The rustic-themed furnishings and nooks in Ravindra Jadeja's bungalow masterfully highlight its vintage vibe. These elaborate motifs and magnificent architectural marvels are now included in the long list of elements that lend this house a rich and regal appeal.
The bungalow's magnificent chandeliers, charming themes, opulent interiors, lavish furnishings, and other adornments are a tribute to royal detail.
The royal aesthetic is present throughout the entire house, down to the typical wood balusters on the staircase. Additional details that draw attention to the royal history of the Ravindra Jadeja house include the swords (since the cricketer is also a skilled swordfighter) and the field bat, which gives the home a more opulent and individualized touch. The IPL star frequently works out hard at his Jamnagar home, which is surrounded by greenery and serves as a natural haven for rest and refreshment.
The home of Ravindra Jadeja has served as one of the city's nodal points, with this heavenly abode serving as the center of attraction for both locals and visitors. This is due to the fact that the famous person was able to preserve the essence of his family in the design elements and materials used, which resulted in a very charming space.
Inside Ravindra Jadeja's Farmhouse
A prominent image of Ravindra Jadeja's farmhouse, also known as "Mr. Jaddu's Farm Home," can be found on his social media feed. It is situated on an 8-acre plot 25 kilometers from his home. Over time, it transformed into a sizable modern cottage with an ethereal, spotless compound. The pool at this location is decorated with red RJ monograms. The farmhouse is home to three horses, two of which—Kesar and Ganga—are favorites of the Royal Navghan.
These horses were bought by Jadeja in 2010, and he takes pleasure in riding, spending time with them, caring for their needs, and grooming them. Jadeja has frequently stated his love for horses and made it clear that he does not intend to short-sell them. He has also stated that he breeds horses for this love. Undoubtedly, the cricket player finds the affluent and luxurious lifestyle appealing.
Jadeja frequently expresses regret over not having time to visit his farmhouse due to his busy schedule. He misses his horses and the sensation of riding them, but fortunately, he had plenty of time with them during the quarantine.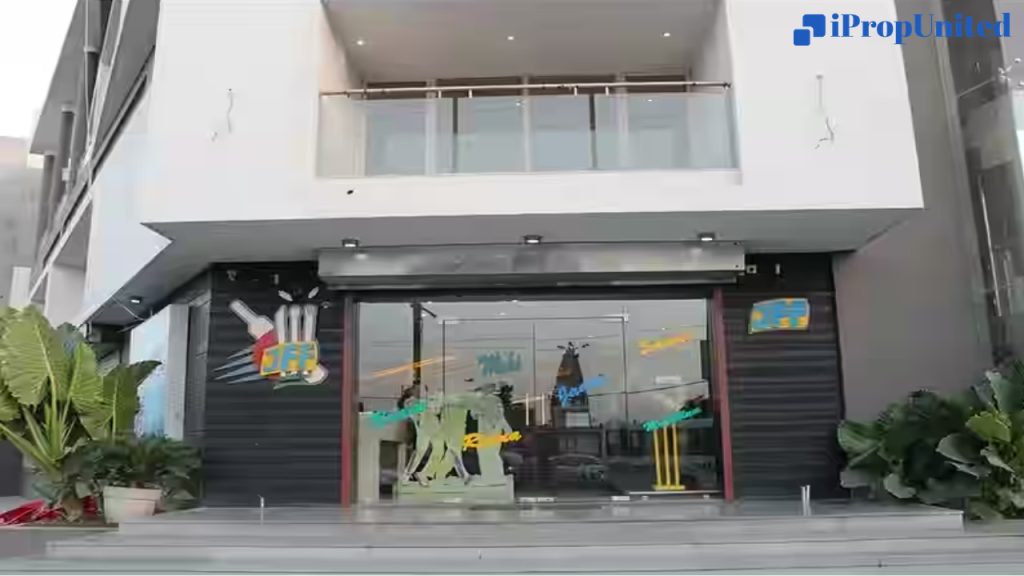 An insight into Ravindra Jadeja's Restaurant
Jadeja has always felt thankful for his hometown and as a way to express his love for it, he took the initiative to build a new restaurant that was named after his love for and dedication to the location. He had observed how the city's citizens and visitors expressed their opinions regarding its delectable cuisine and its rich cultural diversity, and he wanted to be the one to raise the issue above their heads. Given this, the well-known individual went above and beyond to develop Jaddu's Food Field, a restaurant with a royal theme and a reputation for its cuisine. All the credit for this place's smooth operation should go to Naina, the eldest daughter of the Jadeja family. Simply having this on display and making it accessible to the public in one place would result in additional advantages.
Being a "rags to riches" success story, the all-rounder has advanced both personally and in his way of life by making significant career strides. Ravindra Jadeja's fans frequently ask for his home address so they can visit his opulent mansion. The earthy and neutral color scheme of the Ravindra Jadeja house in Jamnagar, which balances warm and cold tones, speaks of princely and royal heritage. The fact that the young Rajput tried to evoke the traditional feeling of regal splendor within these four levels speaks highly of the royalty that he represents. Even though Ravindra Jadeja's farmhouse and home exude regal charm, the icon is unmistakably tied to his roots, which are evident in several palace details. 
Follow and Connect with us: Twitter, Facebook, Linkedin, Instagram