E-auction bidding of residential and non-residential plots of Kanpur Development Authority (KDA) began on Monday. KDA Vice-Chairman Arvind Singh inaugurated the bidding of around 401 plots through e-auction portal on www.kdaindia.co.in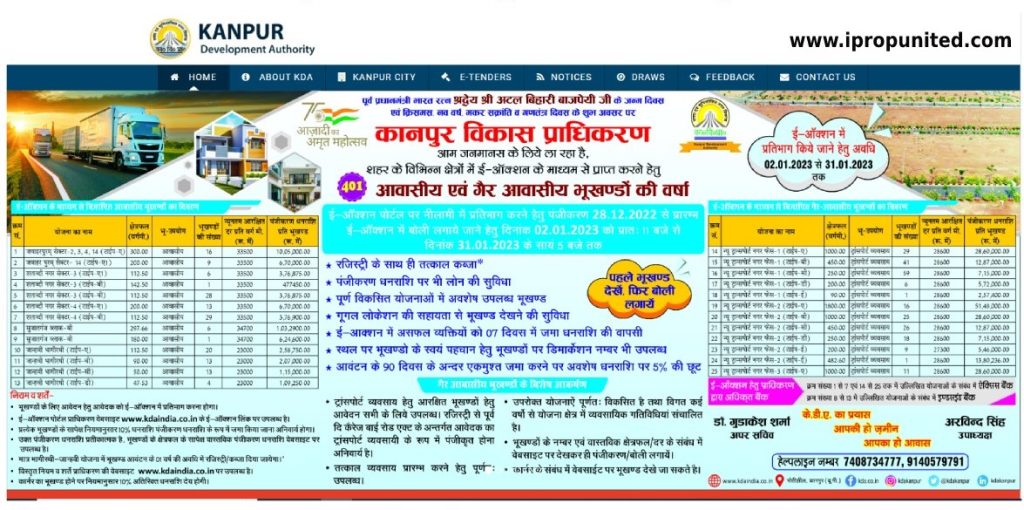 An advertisement was floated by KDA regarding the e-auction of 401 residential and non-residential plots in which interested persons could register themselves from December 28, and place their bids from January 2 to January 31 through online bidding.
Residential plots are available in Shujat Ganj, Jawahar Puram, Shatabdi Nagar, Jahnvi- Bhagirathi schemes, and non-residential plots in New Transport Nagar. The area of non-residential plots is 90-1800 square meters and residential plots are 47.53 to 300 square meters. People can inspect the plot on the site with the help of Google location before purchasing the plot.
According to SB Rai, a law officer and public relations officer, KDA floated the sale of plots on the occasion of former Prime Minister Atal Behari Bajpai's birthday, Christmas, New Year, Makar Sankranti, and Republic Day.
On Monday, district judge Kanpur Nagar Sandeep Jain released the advocate diary of the Lawyers Association at the court campus.
After wishing a happy new year to the advocates, the district judge said that all of the advocates should make such efforts so that the name of Kanpur in the judicial field could be highlighted in the state.
President of the Lawyers Association Ravindra Sharma said, "We all should make efforts together to provide cheap and accessible justice to litigants". The programme was conducted by the general secretary of the association Sharad Kumar Shukla. The office-bearers of the Lawyers Association were present on the occasion.
Follow and Connect with us: Twitter, Facebook, Linkedin, Instagram