RERA (Regulation and Development Act), was passed to safeguard homebuyers' interests and promote financial investment in the real estate market. Since the Indian government enforced RERA in 2016, every state has had its own RERA authority to regulate the housing sector.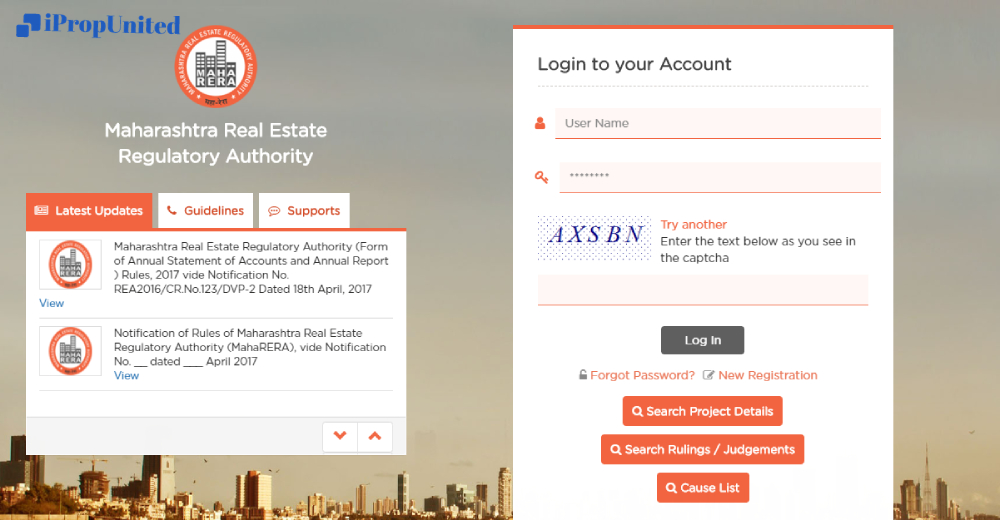 For instance, if you want to purchase a house in the state of Maharashtra, you must ensure the property is pre-approved by Maharashtra RERA. Additionally, know that this Indian state was the first in the nation to fully implement RERA.
The Regulation and Development Act in Maharashtra was implemented the same year as the Parliament approved the RERA bill. This regulatory authority regulates all real estate disputes within the state and gives home buyers and owners prompt solutions. 
The Maharashtra RERA Act has made it easier for appellate tribunals to register official complaints from deceived buyers. The rules set forward by this body have also increased transparency in all real estate deals between buyers and developers.
The builders cannot sell or even advertise their developing properties to prospective buyers until the project gets registered under RERA. Every commercial, as well as residential complex in Maharashtra, must be registered under RERA.
RERA in Maharashtra is making the Maharashtra real estate sector safer as it already dealt with over 2200 complaints last year. Moreover, this regulatory body has processed over 18,000 RERA applications, which makes up 60% of all RERA applications within India. 
What are the Primary Goals of MahaRERA?
Here is an overview of the primary objectives of the RERA ACT, Maharashtra:
RERA Act focuses to facilitate the sale of plots of land, fully-constructed buildings, or apartments in a seamless way.

Its policies aim to establish transparency between sellers and buyers. For instance, buyers can now demand complete floor plans and blueprints from developers before purchasing.

It provides relevant resolution over disputes between developers and buyers.

Due to developers following RERA's norms, there is clear information about the plot, home, and apartment sale.

It allows buyers to file complaints about any developer, as MahaRERA has established the concept of an Appellate Tribunal.
A property – be it commercial or residential is registered with RERA Maharashtra, which means it's authentic, and purchasing it will not create any disputes.
Therefore, it is recommended to check whether the property is registered with RERA Maharashtra even before taking a home loan to buy any residential housing in the state. 
What are the Benefits of Registering with MahaRERA?
Protects buyers from liquidation 
The RERA Act Maharashtra protects buyers from insolvency, as it holds an Escrow account. It acts as a third party that controls payment between two parties and only releases the funds once the contract terms are met, which means during the purchase of under-construction property, the developer has to deposit 70% of the money buyers pay them into a single account. The developer can access these funds after successfully handing over the home to the respective buyer. 
Safeguard the rights of all stakeholders
Along with buyers, RERA allows the right to its registered brokers and developers to file a complaint against dubious deals and buyers who default on their payments.
Grant flexibility to developers on project completion 
RERA Maharashtra allows flexibility to developers, as they can choose the completion date of the project. 
Improves transparency and accountability
As a result of this Act, procedures are more streamlined and laws are clearly put down, which attracts more people to work within the real estate sector.  
Ensures fairness in pricing
Maharashtra RERA makes sure that purchasers pay only for carpet areas. Resulting, no builder can charge a high premium on the square footage of a home.
How to check registered projects on MahaRERA?
It is easy to check whether the project is registered with Maharashtra RERA and one can check it online. To check the registration of any project follow the steps listed below:
Log on to the official MahaRERA portal and navigate to 'Registration'.

Click on the 'Registered Projects" in the 'Registration' drop-down menu and this will take you to the external web portal. You must allow all pop-ups to complete this process.

A short form will open asking for specific details on the external page. Here, fill the project and promoter's name. The page will display all MahaRERA Maharashtra details. Here, you can check a developer's RERA certificate along with other relevant details.
How to check registered Agents on MahaRERA?
Not only developers and their properties, but independent brokers and real estate agents are also registered with Maharashtra RERA. And, if you're dealing with one, it's prudent to check whether they're registered or not. Here's how:
Log on to the MahaRERA Maharashtra web portal, and click on the 'Registration' tab from the top menu.

Click on 'Registered Real Estate Agents' and this will take you to an external website.

A form will open on the external website. Here, enter the agent's registration number or name. You'll see all the details if the agent is indeed registered with the Maharashtra RERA Act. If they are not registered, the search will return empty, and you can determine they are not to be trusted. 
Required Documents to register 
Below are the listed documents that are required while registering your project or yourself under the RERA Act Maharashtra:
To apply as an independent individual will require your full name, mobile number, address, and photograph. 

Your company registration documents if you're applying as a partnership firm or company.

Agreements refer to the ownership, lease, or development of a project.

Complete layout and the approved building plan.

Details of RERA bank account (typically opened before applying for MahaRERA).

Form 1 from your architect(s), Form 2 from your Structural Engineer(s), and Form 3 from your Chartered Accountant(s).

PAN card, name, address, mobile number, and photograph of the person in charge of promoting a property for a particular developer.
How to check registered projects on MahaRERA?
Want to register your project under Maharashtra RERA? You can simply register online, and the process is straightforward.
Log on to the official Maharashtra RERA site and click on the 'Online Application' tab.

You'll have to register with the portal. For this, click on the 'New Registration' tab.

Create your account with Maharashtra MahaRERA authorities by following proper procedures.

You must choose Maharashtra as your state on the registration page, and mention the remaining details such as username, registered email address, and mobile number. Click on "create user" once you've filled out all details.

After completing the above mentioned steps the portal will send you a verification link to the email address that you provided. Verify by clicking on the link in your mailbox.

Further, you can log in to the website with your username and password, upload the necessary documents, and fill the required fields to register with the Maharashtra RERA Act.  
Which projects are not required to be registered with MahaRERA?
It is notable that all projects are not required to be registered with MahaRERA. The Act is constituted to register real estate agents, and real estate projects and to prevent home buyers from fake projects and malpractices. 
Following are the cases in which the project is not required to be registered with MahaRERA. 
The real estate project with an area below 500 sq mt 

If the total number of apartments does not exceed 8 as part of the project (all phases). 

The promoter of the relevant real estate project has received a completion certificate (CC) for the project before the implementation of the MahaRERA Act.

Where a real estate project includes redevelopment or renovation/repair, which does not include advertising, marketing, or new allotment of a residential apartment, plot, or building.
Follow and Connect with us: Twitter, Facebook, Linkedin, Instagram