Many people find life insurance attractive, but not all life insurance is the same. Term insurance is a crucial kind of life insurance that offers protection for a predetermined time. Depending on your needs and situation, you can choose different types of term insurance.
Life insurance is a crucial component of financial planning because it enables you to protect your assets for the duration of your life and after. It is a contract that assures the beneficiary of the death benefit in the event the policyholder passes away while the policy is still in effect.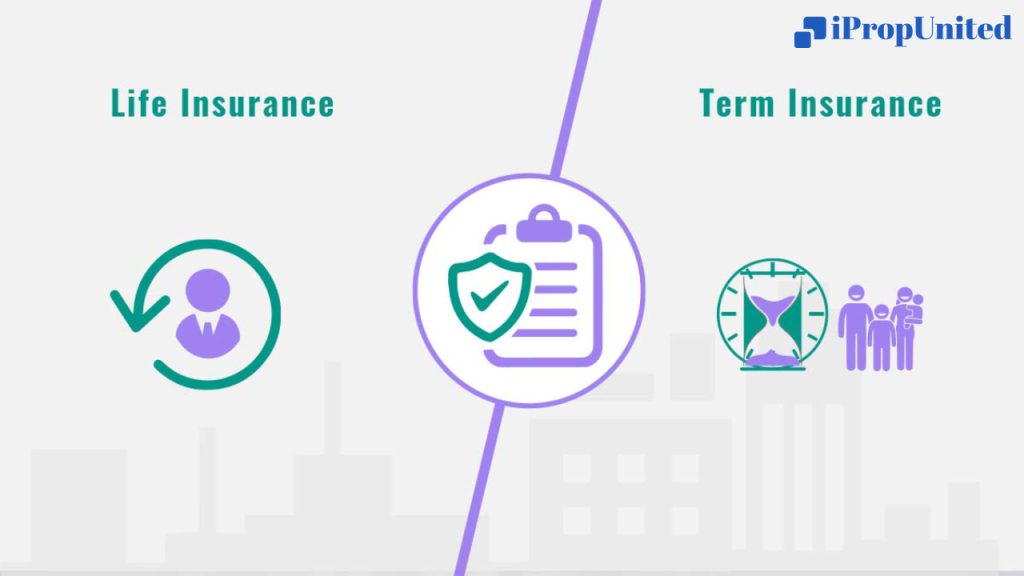 Life insurance is a legal agreement between you and an insurance provider that provides a guaranteed sum of money in the event of your demise. Your policy will typically have a term (the period of time during which you are covered), which can be anything from 10 years to the duration of your life expectancy.
When compared to whole-life or universal life insurance, term insurance pays out less money over a longer period of time.  However, if you want to make sure that your family can continue their standard of living without worrying about having enough money for retirement in the future, it might still be something to think about. 
Understanding life insurance and term insurance
Here is a brief overview of Term and Life Insurance Plans:
Term Insurance Plan
Term insurance is a type of financial product that guarantees a certain sum for a certain time. The premium for this coverage is paid by the policyholder, but no additional payments are required throughout the term.
A more affordable option that is available for a set period of time is term insurance. Additionally, the majority of term insurance policies have a guaranteed minimum amount. This means that even in the absence of a claim or the occurrence of a covered event during the term of coverage, the insurer promises to pay at least this sum. 
Life Insurance Plan
Life insurance Plans are a great way to safeguard your family in the event of an untimely passing. Additionally, life insurance policies can assist you in creating a financial cushion for you and your dependents so that they will have security in the event of your untimely death.
Life insurance Plans are made to cover you and any dependents you might have for the rest of your life. Many insurance policies also include death benefits that can be used to cover funeral costs and other related costs if you pass away early as a result of an illness or accident.
The most crucial aspect of purchasing a life insurance policy is comprehending the scope of the coverage you are purchasing. Additionally, you want to make sure that all of your dependents are adequately protected so that they won't be left without any money or savings in the event of an untimely death. 
Life insurance and term insurance have different benefits.
In contrast to term insurance, which offers coverage for a specific time period, life insurance provides coverage for you and your family in the event of your death.
In general, term insurance is less expensive than life insurance. Because of this, if you pass away while the policy is active, your family will be less financially burdened.
Term insurance policies can also benefit your family and are costumized to your needs. The distinction between a term plan and life insurance will be thoroughly explained in this article.
Overview of term insurance versus life insurance
The comparison between term and life insurance is shown in the table below:
| | | |
| --- | --- | --- |
| Difference | Term Insurance | Life Insurance |
| Coverage | Only premature death | Both premature death and survival until the policy tenure |
| Premiums | Low and affordable | Higher rates |
| Maturity benefit | Usually not payable | Mostly Payable |
| Death benefit | Payable | Payable |
| Term | 10 to 35 years | 5 to 30 years |
| Paid-up/Surrender value | No, paid-up value or surrender value | A paid-up value is acquired by the plan if premium payments discontinue after a predetermined number of years, and a surrender value is paid if the plan is surrendered after that. |
| Flexibility | Not Flexible | Very Flexible |
Let's take a closer look at the points mentioned above.
Coverage
While term insurance gives the policyholder a cash benefit, life insurance gives the beneficiary a death benefit. Additionally, term insurance provides coverage for the policyholder's untimely demise during the period of time outlined in the policy document. Contrarily, life insurance provides coverage for both death before the policy's maturity and continued life after it. 
Premium
Since life insurance policies cover the entire life, the premium is typically higher than for term insurance.
Coverage Duration
Term insurance coverage can last between 10 and 35 years, whereas life insurance coverage has a fixed duration of 5 to 30 years.
Bonus and Additional Payments 
After you have paid your premiums for at least one year, life insurance companies will typically add a bonus to your policy. The majority of the time, term plans don't provide any bonuses or extra benefits.
Under term insurance policies, the basic sum assured will be paid in the event of the insured's demise. There are other life insurance plans, though, where bonuses, guarantees, loyalty bonuses, and other benefits can be added.
Paid up and Surrender
The process of applying for term insurance involves surrendering your current whole life insurance policy. There is no acquisition of paid-up or surrender value.
In life insurance plans, if premium payments are discontinued after a predetermined period of time, the plan becomes paid up. Any later surrender results in payment of a surrender value.
Flexibility
Due to the lack of a surrender value, paid-up value, and maturity benefits in term insurance, whole life insurance policies are more flexible than term life insurance policies.
Conclusion
The two most important types of financial plans adopted by citizens of any nation in order to live peacefully are term insurance and life insurance. So, their primary purpose is to improve the security and safety of our lives.
The main distinction between term and life insurance is that the former offers protection for a set time (the term), whereas the latter offers protection throughout your lifetime. So, whatever insurance plan you choose, make sure it meets your needs.
Disclaimer: Access to the content on this internet page is provided by iPropUnited as a courtesy to the public service for educational reasons based on related news and stories. The accuracy of any information on this website cannot be guaranteed, however, it is all believed to be credible.
Follow and Connect with us: Twitter, Facebook, Linkedin, Instagram